LAWCLERK has rolled out another feature enhancement at the request of some of our power users.  This new feature allows you to duplicate (i.e. autofill) a prior project's information when posting a new project.  Posting a project on LAWCLERK is quick and easy.  If you are posting multiple projects or repeating a prior project, this feature makes it even faster!
How can you use this feature?  Here are a few examples.
REPEAT DOCUMENTS
One of our power users regularly works with Lawclerks on his Team to prepare demand letters.  When he posts the Project to hire someone to prepare a demand letter, he includes lengthy and beautifully written instructions.  Thanks to the new duplication feature, he can include those same Project instructions time and time again with ease.
SECOND SET OF EYES
Another great way to leverage the talent of our freelancers is for a second set of eyes.  One user routinely does the following.  He posts a project and hires a freelancer to read his opposing party's motion and his opposition.  He asks the freelancer to review both and give him a memo on who wins the argument and why.  This helps him issue spot and check for any arguments he may be missing.  He will often post the same project multiple times so he can have multiple Lawclerks give him an analysis.  By posing the same project to multiple people, he is essentially polling the LAWCLERK audience to boost his case. With this new feature, it will be even easier for him to duplicate a prior project and get these posted in a flash.
BATCH DOCUMENT REVIEW
What does a busy, solo attorney do when they suddenly get 25,000 pages of documents produced by opposing counsel?  A smart attorney puts those documents into batches, creates a matrix with instructions for the doc review, and posts each batch as a project on LAWCLERK to get them quickly reviewed by our talented Lawclerks.
BUILD ON A PRIOR PROJECT
Let's say you previously worked with a Lawclerk to have them prepare a research memo.  Now, based on the findings of that memo you want them to draft a demand letter or a complaint.  You could duplicate the prior research project and revise it slightly to cover the requirements for completing the new project.  Thanks to the LAWCLERK Teams feature, you can even assign the second project to the same Lawclerk!
FEATURE OVERVIEW
First, click on the button to Post a New Project or Build a New Team.  If you click on "Post a Project," you will be prompted with two options:  Create a new Project or Duplicate a new Project.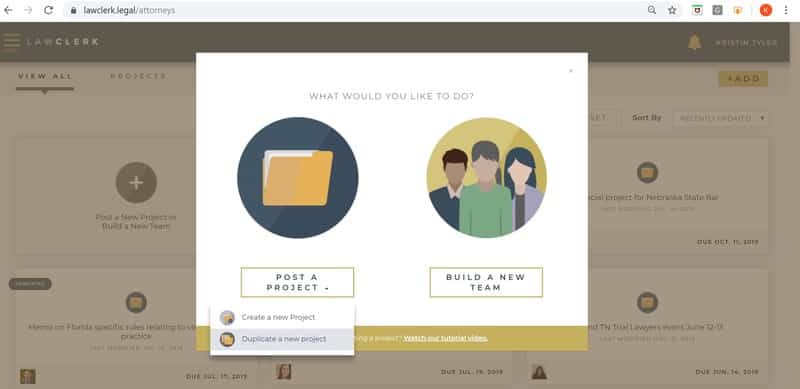 You can select a previous project and alter the name for the new project if you wish to do so.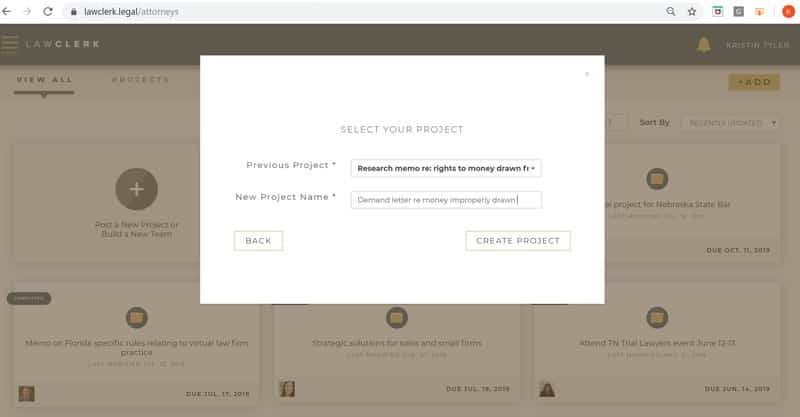 The project details and description are duplicated and auto-populated.  Of course you can always edit and revise it as needed for the new project.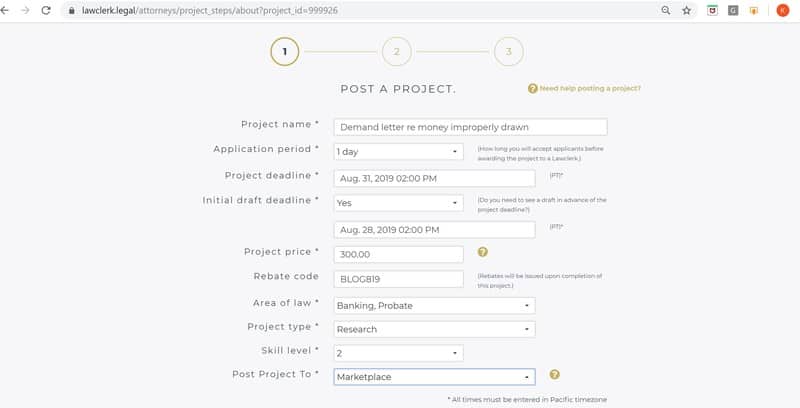 Have questions about duplicating a project?  Please reach out to us at support@lawclerk.legal or call 888-479-5738.  The LAWCLERK Care Team is always here for you!