Are traditional legal outsourcing services the best possible solution for lawyers who want to delegate legal work?
We haven't found that to be the case. Based on many conversations with hiring attorneys over the years, and from our own experience running a law firm, there are significant downsides to traditional legal outsourcing services, such as:
Limited availability of freelance lawyers with the appropriate niche expertise.

Slow turnaround time.
Those downsides make it extremely difficult to find freelance lawyers that not only have availability, but the right talent and expertise. In fact, as you can read about in our founding story, those were some of the main reasons we decided to build LAWCLERK: a nationwide, freelance lawyer marketplace with the largest talent pool around.
In this post, we'll go into detail on the downsides of legal outsourcing services, how our freelance lawyer marketplace avoids them, and why it's the most effective option available to delegate legal work.
Downside #1: Limited Availability of Freelance Lawyers with the Appropriate Niche Expertise
Many hiring attorneys we speak to who work in niche areas of law question whether or not they can find a freelance lawyer with the specific expertise they need.
For example, one of our clients runs a highly specialized practice that involves complex matters in energy, natural resources, and business litigation.
She was struggling for a while to find freelance lawyers through her network who had the right expertise, because she primarily works in Colorado and Wyoming, which are parts of the country that don't have the vast pool of energy specific contract lawyers that areas like Texas may have. This was a major problem, because there were times when she had too much on her plate and needed an extra set of hands.
How could she increase the chances of finding the sophisticated, specialized talent she needed? The answer is having access to a much larger database of freelance lawyers.
This is the key reason we built LAWCLERK to be the only nationwide freelance lawyer marketplace that complies with the Model Rules and all 50 states' ethics rules. As a result, we're proud to say we have the largest, most qualified talent pool in the legal industry. So far, over 2,900 freelance lawyers with almost every type of subject matter expertise have joined our platform, a number far greater than any local legal outsourcing service has.
When she posted her first project on our marketplace, she was relieved that over 10 specialized freelance lawyers applied, and she found just the right person she needed to help out on a very unique and complex energy law issue.
She went from having trouble finding even one qualified freelance lawyer, to having trouble narrowing down multiple candidates with relevant experience (which she was able to see based on their ratings, reviews, writing samples, and resume). Here's a sample profile: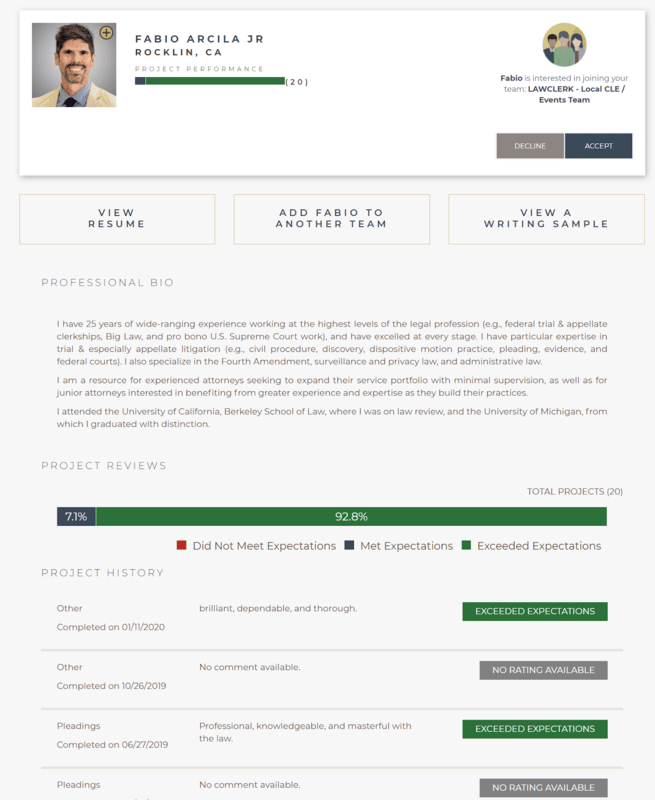 In comparison, with most legal process outsourcing services, if you need help in a niche area, there's a decent chance you'll be out of luck. And even if you do get matched up with a freelance lawyer who actually has the required expertise, they may be the only person that was found. On the other hand, on LAWCLERK, at least 12 lawyers apply to each Project on average, and by having access to a larger candidate pool, your chance of finding the best person for the job increases.
While this is especially a major benefit for lawyers who need help with specialized legal cases, the same logic applies to any type of legal task — the greater the talent pool, the more likely you are to find the right person.
Downside #2: Slow Turnaround Time 
Hiring attorneys can sometimes find themselves in a time sensitive situation where they need the help of a freelance lawyer within a few hours.
For example, if you're on the eve of a trial, there are many last minute issues that could come up. You may need someone to review and summarize a couple of deposition transcripts, or write oppositions to motions in limine, and the list can go on.
If you're able to find and connect with a freelancer lawyer (or multiple freelance lawyers) and quickly get them up and running on those multiple tasks, then it's a game changer for trial prep. It frees you up to sit back and look at the bigger picture of your case. Focus on the themes and theories you want to hit in your opening argument. Come up with the sequence of witnesses you want to call. And make sure you have every piece of evidence lined up and ready to present to the court, rather than being bogged down with last minute research memos or oppositions.
With LAWCLERK, when a hiring attorney posts a Project, we typically see freelance lawyers applying to work on it within minutes. Thousands of hiring attorneys have used our platform, and something we hear all the time is that they have more peace of mind than before, knowing there's always someone to cover a particular piece of the workflow that is time sensitive.
In comparison, with many traditional legal outsourcing services, you're looking at a much slower turnaround of connecting with a freelance lawyer (i.e. 1 to 2 days rather than minutes or hours). While the turnaround time depends on the service, this is generally the case from our experience and from speaking with customers who have gone through the process.
What Types of Legal Tasks Can You Outsource? 
One of the most common questions we get asked is, what kinds of legal tasks can you delegate to freelance lawyers? We typically see it fall under 2 categories: big projects and small projects.
1. Big Projects
While freelance lawyers can help with almost any type of legal work imaginable, the three most common types of work we see on our marketplace are legal research, document drafting, and discovery. And out of those three, discovery seems to be the most common use case that attorneys get excited about.
As anyone reading this knows, the discovery process of a litigation case is incredibly tedious and time intensive. And it's hard to carve out time during the day and really dig into it. Having an experienced freelance lawyer come in and help with discovery saves hiring attorneys a ton of time, and the work still gets done with the quality that's needed to strategize on the case. Plus, there's no need to bring on the overhead of a full time, in-house associate hire (cost saving is a non-trivial benefit which we discuss in greater detail in our founding story).
If you'd like to dive deeper into what kinds of legal tasks you can outsource, see our Attorney Resources page, where you can find sample Projects by areas of law (among other useful documents).
2. Small Projects 
Attorneys can also enlist the help of freelance lawyers for smaller, time consuming tasks, such as:
Creating blog posts for your website (to rank for specific keywords in Google).

Writing long form articles for your State Bar Journal, or any other publication that could attract more clients.

Creating a Terms of Service for your website.

Drafting a customized client intake questionnaire to streamline the onboarding process.

And other behind the scenes written work.
While these tasks may seem small, lawyers using our service mention they are important, because they need to get done regardless, and the owners of the firm have no time to do them. More importantly, these non-billable types of tasks simply aren't the highest and best use of their time, and lawyers who take them on are indirectly hurting their profitability (as we discuss here). Finally, the smaller tasks are an easy, low risk way to test a legal outsourcing solution. So for all these reasons, it makes sense to delegate them to a freelance lawyer.
Additional Creative Ideas on How to Utilize Freelance Lawyers 
We also see attorneys who use our platform come up with creative ideas, such as getting a second set of eyes on their work. For example, say a solo attorney wants to make sure they hit every possible argument in a reply brief. But it's just them on their own. We see attorneys frequently post projects with a request along the lines of, "I want another set of eyes on this — can someone please read through this document and tell me if you have any ideas on how to make the argument stronger?"
Hiring attorneys can also take advantage of mentorship opportunities, get on calls with deeply experienced freelance lawyers, and talk through legal strategy / bounce ideas off them. There's a growing segment of retired freelancers on our platform with over 25 years of experience and a genuine love of the law. While they've put in a lot of years and have no interest in running a practice anymore, they still want to do some legal work because it's a passion of theirs. So they enjoy getting on calls and consulting on cases, and it's a fantastic opportunity for a seventh or eighth year lawyer who's running their own practice to to collaborate with someone who has 25+ years of experience, and turn it into an ongoing mentor type of relationship.
Interested in Trying Out LAWCLERK? 
When you sign up for a LAWCLERK account, you'll automatically be matched up with a dedicated advisor that acts as a concierge (at no charge) and helps you figure out the nuances of posting your first Project, pricing it, and selecting the best possible freelance lawyer for the job. We've heard from hiring attorneys time and time again that working with their dedicated advisor has boosted their confidence about outsourcing, which has allowed them to become regular delegators and improve their law firm's profitability.
Getting a partner along the way that helps you follow best practices, and does so at no charge, is arguably one of the most significant advantages that LAWCLERK offers.
Learn more on our site and book a demo today to discover how our freelance lawyer marketplace can transform your legal outsourcing process.