As attorneys, one of the biggest challenges we face is feeling like we have to do everything ourselves. But the best use of your time as an attorney is not doing legal busy work for your client (i.e. drafting pleadings, memos, contracts, and written discovery).
Instead, you can outsource those behind-the-scenes tasks to knowledgeable freelance attorneys while you market your practice, strategize on a case, appear in court, and so forth.
This is where LAWCLERK comes in.
We have thousands of experienced, talented freelance attorneys who prefer to work on a freelance basis. As an example, with their help, 8 hours of drafting a pleading turns into 1 hour reviewing and finalizing it.
This gives you 7 hours back in the day to focus on other work that is the highest and best use of your time. Now, what if you scaled this and delegated tens of legal projects each month?
You'd gain hundreds of hours back in the course of a year and scale your law firm without the overhead of traditional, in-office associates.
Sounds great, right? But some attorneys are hesitant to trust freelancers with important legal work. Can they really do a good enough job? Or will you just spend hours correcting their work?
And the answer is yes, they can do an excellent job — if you know how to find the right freelancer and how to set them up for success.
With that in mind, we'll explain:
Why LAWCLERK (our freelance lawyer marketplace) is the best place to find knowledgeable, talented freelance attorneys.
Tips on finding the best possible talent via our platform.
How to ensure each project you delegate is a success.
Let's dive in.
Note: With LAWCLERK, you can post a project, set a flat fee, field applications from experienced freelance lawyers, review their credentials, and quickly select the best possible candidate. We even provide assistance if you need it. You can also sign up to have regular help from one of our freelancers on a subscription basis. Learn more and schedule a 1-on-1 demo call here.
What Makes Our Freelance Lawyer Marketplace Stand Out from Other Solutions?
As a hiring attorney, the main question you should ask is, "How do I give myself the best chance of finding a talented freelance lawyer?" 
We have the largest freelance attorney network nationwide (3,800 and growing). The greater the talent pool, the greater your chances of finding the best person for the job.
Why does LAWCLERK have the largest freelance attorney network nationwide? 
Many freelance lawyer services only match up hiring attorneys with freelance lawyers within that jurisdiction. In turn, this limits the size of the talent pool available to hiring attorneys.
For example, if you're a lawyer in California, then you will be limited to working with freelance lawyers that are licensed in that state (whereas the most qualified, experienced freelancer for the job may be licensed in New York, Texas, and so on).
But what many freelancer lawyer services (and hiring attorneys that use them) overlook is that you can hire freelance lawyers in any state and still stay ethically compliant — even if it's outside your jurisdiction — as long as you follow two key rules:
Don't let the freelancer do any work that would cause them to engage in the practice of law, such as giving legal advice to your clients, making court appearances, taking depositions, or interacting with opposing counsel.
Limit the scope of their work to doing only the written work in the background under your supervision.
At LAWCLERK, we have built the two aforementioned safeguards into our platform, so that any attorney who uses our marketplace is ethically compliant, and they have access to top legal talent from anywhere in the nation, rather than being limited to freelance lawyers in only their jurisdiction.
Note that building those safeguards into our platform was not an easy task, which is why many freelance lawyer services don't let you hire someone outside your jurisdiction.
Before we launched the company, we spent years thoroughly analyzing the business model to ensure it complies with all 50 states' ethics rules. We also hired ethics experts and law professors from all over the country to find any trouble spots.
Several years later, the result of that investigation is the largest nationwide network of freelance lawyers, at 3,800 and growing.
On average, 12 lawyers apply to each Project that's posted on our marketplace, and hiring attorneys often reach out to us to express their amazement at the experience level and qualifications of those candidates.
How do you judge those candidates and determine the best fit for the job?  
Each freelance lawyer has a profile that includes their resume, writing sample, and bio.
In addition, you can see the total number of projects they've completed for other attorneys, and the reviews they've received.
In the example below, Breanna Cary (one of the many talented freelancers on LAWCLERK) has completed a total of 36 projects.
She has received an "Exceeded Expectations" rating on 96.7% of them, and a "Met Expectations" rating on 3.2% of them.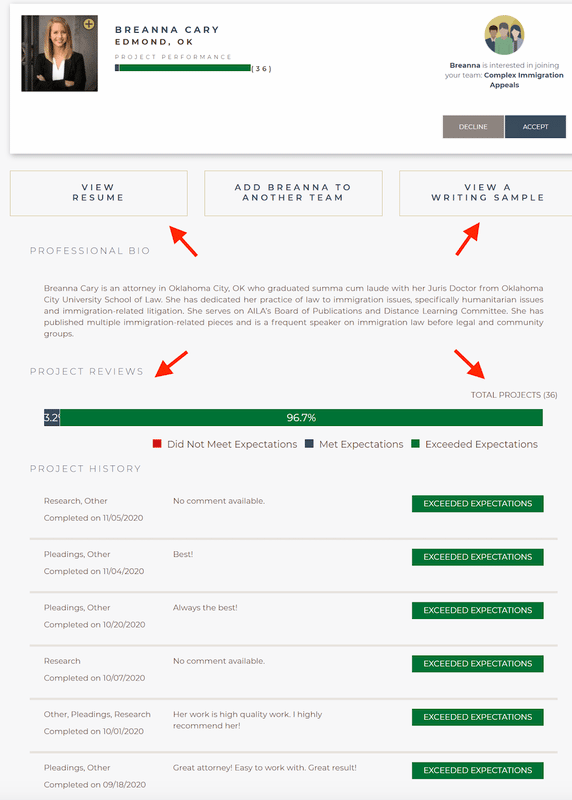 Applicants can also leave a note highlighting their unique qualifications for your Project, which can be very useful in picking the best person for the job.
For example, say you're an immigration attorney looking to get help with a BIA appeal brief. The freelancer can make a note that they've worked on several BIA appeal briefs in the past. That prior experience makes it more likely they'll deliver a great work product.
Note: LAWCLERK works on a per-Project basis, but we recently launched a Virtual Associate Subscription Program, where you can get help on a recurring basis from your favorite freelance lawyers. See this article to learn how it works (and how you can benefit), as well as this case study about attorney Eric Ratinoff, who leveraged the program to meet a fast approaching deadline that required five freelance lawyers who could each work at least 20 hours a week.
Lean on Your Dedicated LAWCLERK Advisor 
Every attorney who joins our platform is matched up with a Dedicated LAWCLERK Advisor (complimentary service).
Your Advisor will reach out and introduce themselves, schedule an onboarding call, understand your specific legal outsourcing needs, and help you create the best strategy for your firm.
We highly recommend that you establish a working relationship with your Advisor early on because you'll be happier with your outsourcing experience.
Each of our Advisors works with hundreds of attorneys nationwide. They've seen what works and what doesn't, and based on their vast experience, they can coach you and ensure you follow best outsourcing practices.
For example, you can get help with questions such as:
What are the kinds of legal work that make the most sense to delegate to a freelance lawyer? (i.e. research, discovery, and so on.)
What's a reasonable market rate for the type of work I need help with?
How do I word my Project description in a way that attracts as many candidates as possible? (The more applicants, the greater your chances of finding the best person for the job.)
How to Ensure Each Project You Delegate Is a Success
The first and most important step is finding a talented freelance lawyer with the relevant experience for your Project.
But even if someone is incredibly qualified, it doesn't mean they are miracle workers. You need to follow best practices to set up freelancers for success.
In this section, we'll discuss 5 of those key best practices:
1. Give the freelancer crystal clear instructions.
Make sure that you invest a sufficient amount of time giving the freelancer crystal clear instructions about your expectations for the work.
For example, what's the writing style? What are all the issues that need to be covered in the work?
Also, if you have sample documents from similar types of work, be sure to provide them to the freelancer. That way, they get a better understanding of what's required of them, and get a step closer to the final work product that you're going to present to your client or the court.
2. Have reasonable expectations from the freelancer and be mindful of your duty to edit their work. 
You can't expect to delegate work to a freelance lawyer and just forget about it. You have to be mindful of your duty to supervise and review/edit the document before it goes out the door.
And so in the same vein, you also need to have reasonable expectations about the work product the freelancer is going to present to you.
It is unrealistic to expect the freelancer to give you a document or piece of work that is 100% perfect and ready to go out the door. It is much more reasonable to expect a document from them that is 80% of the way done, and then invest some of your own time to finalize the work and ensure it meets the standards of your firm.
With that being said, delegating work to a freelancer still saves you significant time. For example, if they spend 20 hours drafting an appellate brief, and it only takes you 3 hours to edit it, that's still 17 hours saved.
3. Figure out the best method of communication and plan times to check in with the freelancer. 
From the start, it's important to let the freelancer know your preferred method of communication (whether that's phone calls, emails, text, messaging through the LAWCLERK platform, etc.).
Another best practice is to schedule a 5 minute check-in meeting with the freelance lawyer while they're completing the Project, to ensure you're on the same page and answer any questions they may have.
4. Be responsive. 
If a freelance lawyer comes to you with a question or needs an additional document, make sure you get that to them quickly, so that you're not a hurdle to them completing their work in a timely manner.
The faster they complete the work, the more time you have to edit and finalize it, ensuring a better work product and a less stressful experience (i.e. editing a piece of work right before the deadline).
5. Plan ahead. 
Don't wait until the 11th hour to delegate work to a freelance lawyer. They are incredibly talented, but they are not miracle workers.
You're going to be much happier with the process of working with a freelance lawyer and the final work product if you give them enough time to do their very best work.
Here's a good rule to follow:
As soon as you get a new piece of work in the door (and you know the deadline) go ahead and delegate it that day, rather than waiting.
Interested in Learning More About LAWCLERK? 
Visit our site, where you can schedule a 1-on-1 demo and find:
Attorneys Resources Page that includes an in-depth legal outsourcing guide, ideas of work to delegate by practice area, etc.
Case studies of actual projects posted on LAWCLERK… and more!