In this post, we'll walk you through popular services and marketplaces that you can use to hire a talented freelance lawyer — including our own, LAWCLERK.
You may want to try one of the platforms below, or use a few simultaneously to attract a larger number of candidates, and increase your chances of finding the best possible freelance lawyer.
Note: At LAWCLERK, we help connect busy attorneys with our nationwide network of over 3,800 freelance lawyers, who have expertise in all areas of law. You can get help on a per Project basis at the flat fee price you set. In addition, you can more deeply integrate freelance lawyers into your practice via our Virtual Associate Subscription Program.
Where can you find a freelance lawyer?
LAWCLERK is the only freelance lawyer marketplace to comply with the ethics and Model Rules of all 50 states. Because of this, we have over 3,800 freelance lawyers and counting on our platform, who specialize in every area of law.
Consequently, if you use LAWCLERK, you'll have access to a greater talent pool than other marketplaces and services can offer.
When a hiring attorney posts a Project on LAWCLERK, an average of 12 lawyers apply. This is a manageable number while still affording you a good variety of applicants to choose from. From there, you can narrow it down to two or three lawyers, then choose the best candidate among those.
The information you need to qualify a candidate is right at your fingertips — all of our freelance lawyers provide their resumes and a writing sample, and each profile includes reviews and ratings by the hiring attorneys they've worked with in the past.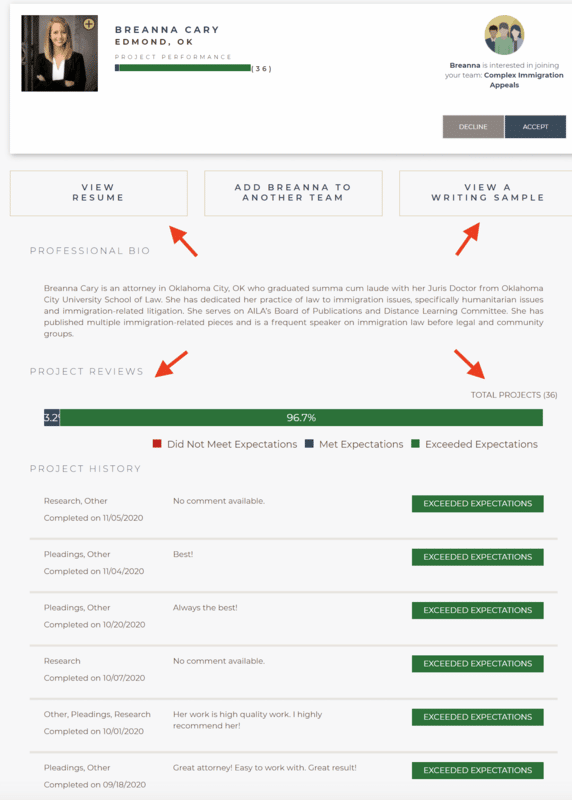 In addition, each freelance lawyer has the option to send you a direct message as part of their application, giving them a sort of "cover-letter" chance to highlight why they think they're the best fit for the Project.
This is helpful if they have additional, Project-specific experience, which may not be listed on their profile, and it allows you to know they may be better suited than other applicants who may be less experienced in a specific issue. This can also help get your Project up and running with less explanation to the freelance lawyer on your part.
How to Post a Project on Our Freelance Lawyer Marketplace
Here are the steps for posting a Project on LAWCLERK's marketplace:
Log in to your dashboard, then click on the plus sign icon (+) for "Post a New Project or Build a New Team."
On the pop-up, select "Create a New Project."
Set the parameters of the Project, including: name, length of time for applications, deadline, a deadline for a review draft, the flat fee you're offering, which Project type it falls under, the required skill level of applicants, and whether you want it to post to the entire marketplace or get pushed directly to a freelance lawyer on a Team you've previously built: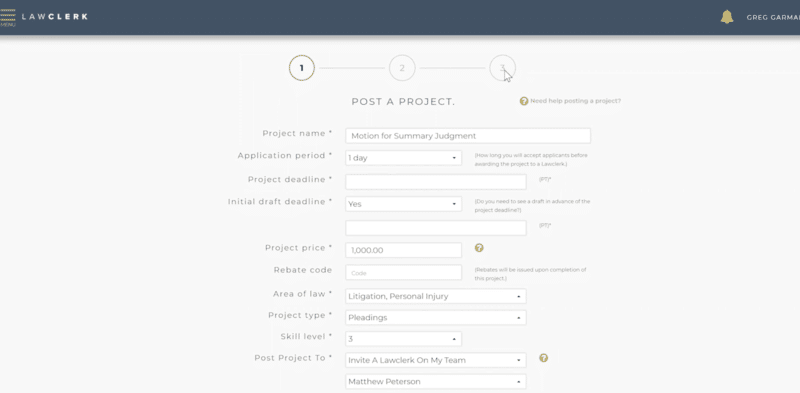 In the next step, you'll enter the Project's description, give more details about the Project, and select whether it's applicable to state, federal, or other legal jurisdiction: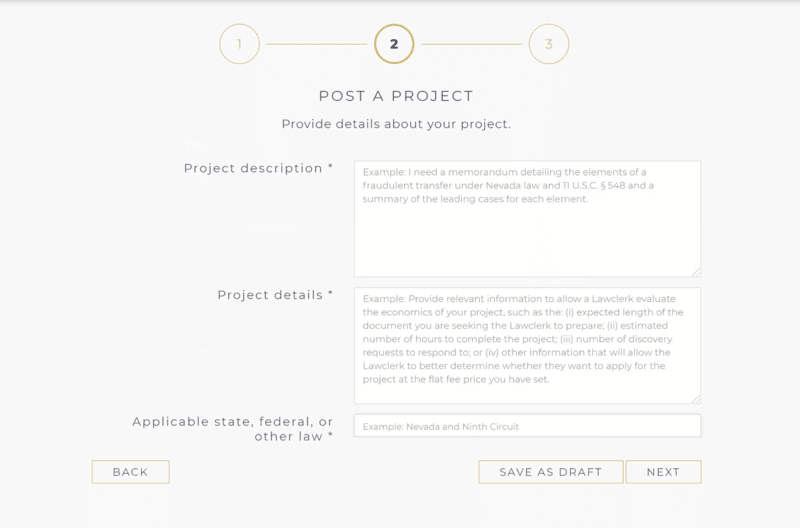 That's all it takes to get a Project posted on the LAWCLERK marketplace. From there, applications will start rolling in.
Getting Help from Your Dedicated LAWCLERK Advisor
When you sign up for LAWCLERK, you automatically get paired with a Dedicated LAWCLERK Advisor to help you post Projects and answer any questions you may have.
They can walk you through how to write a Project description that attracts top candidates, what to charge for it, what kind of expertise you might want to specify, and more.
After you've received applications, they can also help you choose the right freelance attorney. With an average of 12 applications per Project posted, this can be helpful when you're just getting started with our platform.
Consider Our Virtual Associate Subscription Program
Most attorneys start by using LAWCLERK on a project-by-project basis to get help with discovery, research, and other time-consuming legal tasks.
Eventually, they find extremely talented freelance lawyers who they turn to time and time again, and develop really robust relationships.
To make it easier to work with the same freelance lawyers on a recurring monthly basis, we offer a Virtual Associate Subscription Program.
This allows you to collaborate with your favorite lawyers for a set amount of hours each month (from 10 to 160 hours per month, priced per hour by experience level).
In essence, you can get "full-time" help without the overhead costs tied to traditional, in-office associates.
We published an article (see here) that goes into more details about the program.
Specifically:
How it works
Benefits
Pricing
More Information on Delegating Legal Work Using LAWCLERK
Visit our FAQ page for more details on every facet of using our freelance lawyer marketplace.
You can also visit our Attorney Resources page, where we offer:
An in-depth guide for outsourcing legal work.
An exercise for legal Project delegation.
Sample projects by area of law.
Many more documents, webinars, and video tutorials.
Schedule a Demo
Schedule a 1-on-1 demo to have any questions answered, and see how our freelance lawyer platform works.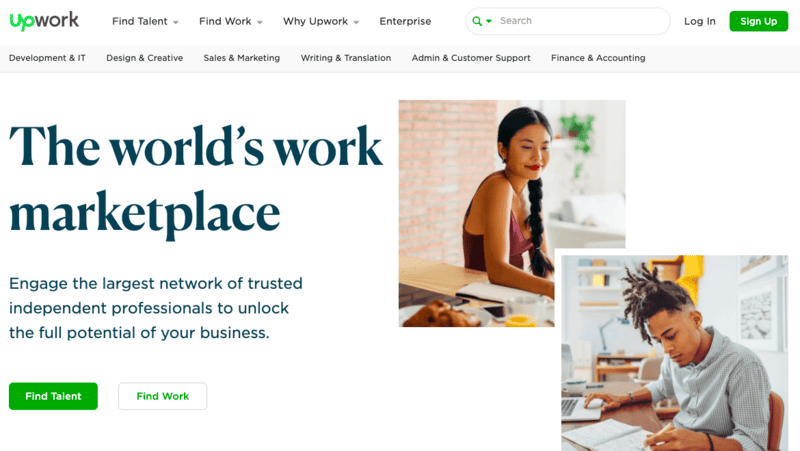 Upwork is the go-to marketplace for countless types of outsourcing, including graphic design, developers, writing, administrative tasks, virtual assistants, accounting assistance, and various types of creative work.
And because it's such a broad outsourcing platform, we sometimes hear from hiring attorneys who have used it to find a freelance lawyer.
That said, Upwork doesn't specialize in legal work the way a platform like LAWCLERK does.
LAWCLERK was built by attorneys, for attorneys — and it was built top to bottom to keep attorneys ethically compliant with state bars in all 50 states. That includes:
Built-in conflict checks.If a freelancer works for one attorney with a specific client and in the future has the opportunity to work for another attorney with a conflict per that client, our system can block the freelance attorney's ability to work for both. Upwork isn't built for legal work specifically, so this isn't easy to deal with on their platform.
Confidentiality agreements on every single project.Upwork doesn't feature the ability to automatically include confidentiality agreements on every Project the way LAWCLERK does. Again, that's because Upwork was built for many different uses, but LAWCLERK focuses specifically on the legal profession and the intricacies it entails.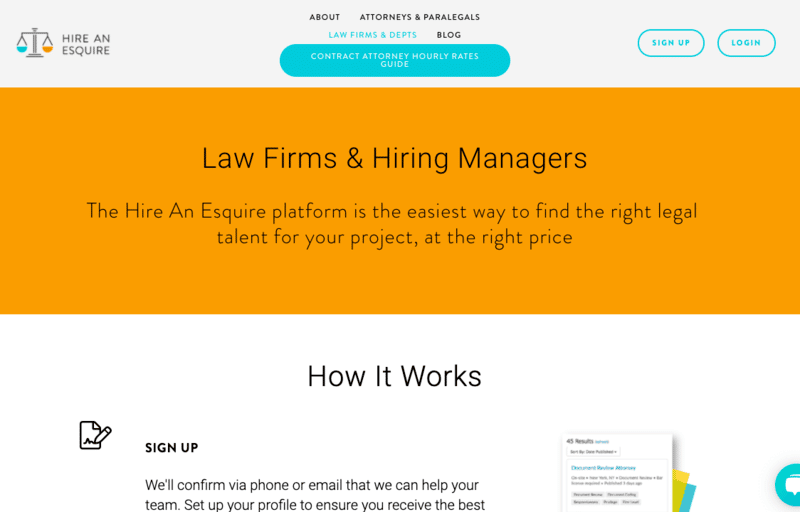 Hire an Esquire is a legal outsourcing platform that provides services not only to smaller law firms and solo attorneys, but also to larger firms.
Hire an Esquire (HaE) requires you to set up a profile and confirm your account via phone or email, then you can log in and post a job. Payment occurs when you're matched with a professional and move forward with the project.
HaE uses a matching algorithm with 20 data points to recommend the right professional for your project, and you can reach out directly to a candidate through the platform to hire them. Their Client Success Team can assist with your engagement with candidates, too.
If you'd like to hire a paralegal for a project instead of an attorney, HaE can help. Their services include more than just freelance lawyers, as they also provide paralegals, legal administrators, and other roles.
This is different from LAWCLERK, as our exclusive focus is connecting attorneys with freelance lawyers(not any other types of legal roles).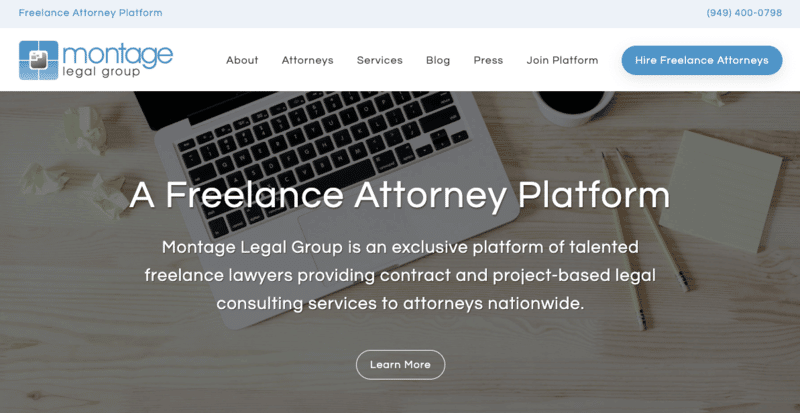 Montage Legal is another great freelance lawyer website, and they primarily assist hiring attorneys in the state of California.
For those hiring attorneys who utilize Montage Legal, it's worth noting that they require all of their freelance attorneys to have Ivy League degrees or Big Law experience — so you're likely to get a great work product.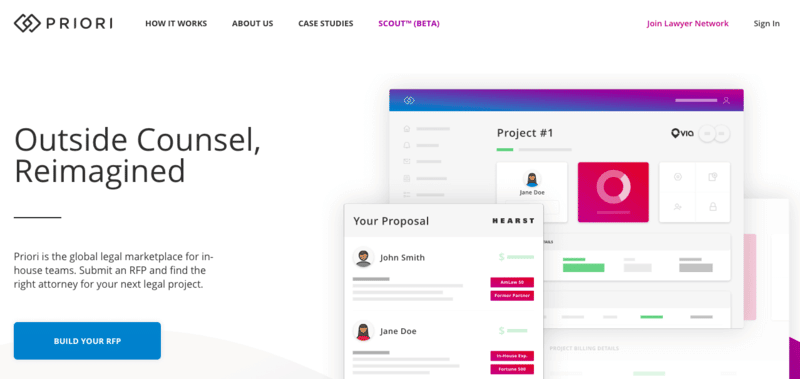 Priori Legal was built specifically with Big Law and in-house corporate legal offices in mind, and it's seen a lot of adoption in that space.
In comparison, LAWCLERK was designed specifically to help solo attorneys and small firms.
Schedule a Demo with LAWCLERK Today
At LAWCLERK, we help connect busy attorneys with our nationwide network of over 3,800 freelance lawyers, who have expertise in all areas of law.
You can get help on a per Project basis at the flat fee price you set.
In addition, you can more deeply integrate freelance lawyers into your practice via our Virtual Associate Subscription Program.
Schedule a 1-on-1 demo to have any questions answered, and see how our platform works.