When considering hiring additional help for your law practice, it's easy to focus on the salary you'd need to pay a new full-time associate.
But — while salary makes up a large chunk of law firm associate compensation — what other costs are involved?
In this post, we break down the fully loaded cost of hiring a traditional in-office, full-time associate, and then we compare it to the benefits and much lower cost of using freelance lawyers (aka virtual associates).
Note: We created LAWCLERK (a freelance lawyer marketplace) so that attorneys can have the best of both worlds: all the upside of a team of specialized lawyers with experience level in every conceivable area of law, but without having to hire full-time associates and add to your cost structure. Learn more here.
Cost of Hiring a Traditional, In-Office, Full-Time Associate
There are seemingly countless resources online when it comes to figuring out what to pay a law firm associate. (We'd like to highlight a few specific stats here as particularly useful.)
Salary Rates
For instance, the National Association for Law Placement (NALP) has a quick-reference list of its last 20 years of private sector salary survey findings.
In their 2019 Associate Salary Survey, they report that "the overall median first-year base salary as of January 1, 2019, was $155,000, up $20,000 (14.8%) from 2017." That gives some sort of starting point for compensation metrics, but that's just the start.
While that report also takes firm size into account when parsing out the details (with fluctuations from $99k to $180k for first-year salaries), the previous 2017 report stresses that while salaries rose in some regional or geographical markets, the overall median had not risen in two years.
So knowing what your specific geographical market looks like — and whether you're a large firm or a very small one — will also factor into how to calculate compensation for a law firm associate.
Meanwhile, the ABA Profile of the Legal Profession (2020) cites that same NALP study when breaking down salary trends by years of experience. While the median salary for a first-year associate is $155,000, the median for an eighth-year associate is $204,000.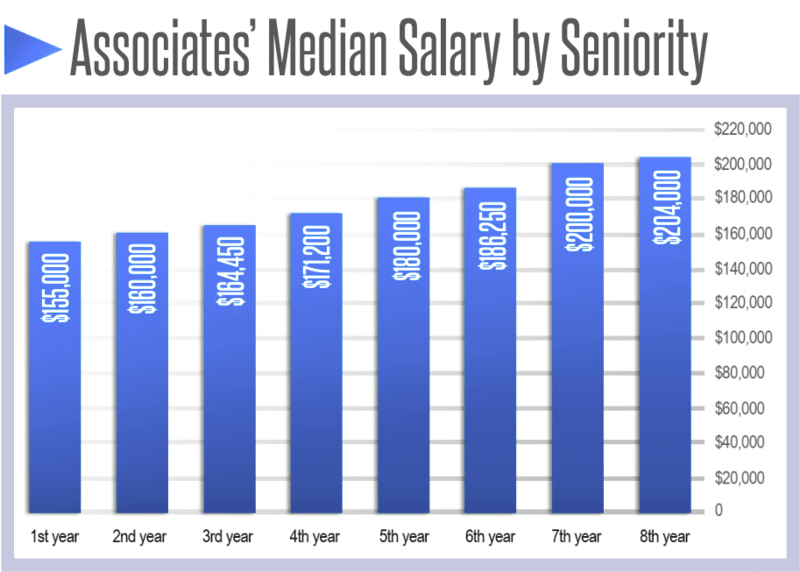 Source: ABA Profile of the Legal Profession (2020)
Experience is yet another factor that needs to go into how much you should expect to pay a full-time legal associate, if they're not straight out of law school.
Training Costs
If you're looking to hire an attorney who is fresh out of law school, you'll also need to factor in training time and costs. And by "time," that may mean your time, specifically.
It's great to get a less-expensive hire by opting for a less-experienced attorney, but that also means they'll need to be trained, either by you or by someone who works for you.
Teaching a young attorney all the practical industry knowledge, best practices, firm standards, and tricks of the trade they need to know to perform well is in your best interest, but it's time consuming.
This can turn into a huge expense that many people easily become frustrated with — because while you may feel like you're at least investing in a long-term hire, it's possible that you could spend a lot of resources training an employee who ends up leaving you to go work for a competitor. Then you likely have hundreds of hours of your own (or your firm's) time down the drain.
Conversely, if you hire a more experienced lawyer from a top firm, the reality is that they may bring bad habits or simply different work standards with them. Then — even if you don't have to teach them the ground-level basics — you'll still need to help them unlearn those bad habits and/or adjust to your firm's way of functioning.
And if that isn't an easy transition, you may find yourself (or someone else you're paying) picking up the slack during the adjustment period.
Benefits
Besides salaries, benefits can quickly add up for employers. According to the U.S. Bureau of Labor Statistics, as of September 2020, almost a third of employee costs to employers were benefits. While the average per hour cost of an employee was $38.26, benefits accounted for $12.01 of that cost — which means that whatever the employee's salary is, you could need to add another near-50% to cover the cost of their benefits.
To break this down even further, we'll refer to a contributor article on Forbes. It explains that the cost of health insurance for a typical American family of four is around $28,386 according to the 2019 McMillan Medical Index, and employers typically cover 56% of that cost — or $15,788 for health insurance.
That doesn't include any employer-sponsored health savings accounts for high-deductible plans, to which employers might expect to contribute $500 to $1500 for an HSA.
Then there's retirement, which is typically 2% to 6% in matching contributions from an employer. So if you have a first-year new hire at the median salary rate of $155,000, that's another $3,100 to $9,300 per year for retirement for that associate.
The Forbes article goes on to discuss:
Dental Insurance ($1,500 to $4,500)

Disability Insurance ($2,000 to $5,000)

Life Insurance ($250 to $500)

Employer Contributions to FICA (~$11,857)
* 7.65% of salary, at $155,000/year

Not to mention unemployment insurance, tuition reimbursement, student loan benefits, financial wellness benefits, and any other voluntary benefits which might be standard for your law firm to provide to associates (think commuter benefits, gym memberships, etc.).
The benefits list is seemingly enormous.
Malpractice Insurance
An associate is also going to need to be covered by malpractice insurance. Rates are typically around $1,200 to $2,500 per year, but they can vary anywhere from $300 up to $10,000. This can fluctuate depending upon experience level and state or location risk factors.
Continuous Education Costs
These costs can vary from state to state, as the number of hours required may vary. In our experience, this can account for around $500 to $1,000 per year per associate.
Equipment and Office Space
Now more than ever, associates are going to need access to an entire suite of office equipment. And while multiple employees used to be able to share larger equipment such as in-office printers, any work-from-home employee will now also need access to their own version of the equipment at home.
Hardware may include laptops, scanners, printers, paper goods and office supplies, office furniture, and a cell phone (with service coverage). These costs will easily range in the thousands of dollars.
Software may include access to your practice management software as well as any research accounts they need access to. These necessities can easily add up to around $2,500 per year per associate.
Whether you're primarily a virtual firm or not, most attorneys will at some point need a space at which to meet with clients or conduct depositions in person, so office space will need to be provided in some capacity.
And if you have more than one attorney that needs to meet with various clients at the same time, that adds to the amount of space you'll need for those meetings to occur. All of this adds to your monthly overhead for each additional in-house associate.
Why You Should Turn to Freelance Lawyers (aka Virtual Associates) Instead
One of the main reasons we launched our freelance lawyer marketplace is to help attorneys hire temporary help, instead of committing to a permanent, more expensive and risky hire.
No Commitment
Unlike the long list of costs associated with full-time hires, freelance attorneys don't have overhead costs tied to them. There are no benefits, equipment, or salaries to commit to when hiring a freelancer, and the freelancer will only work when you need them to.
So if you don't have as much work in any given month, you'll have no overhead as you would an employee. (No salary, health insurance, retirement, or cell phone bill due… )
Hire by Project
While LAWCLERK does offer a subscription-based service (more on that below), the majority of lawyers and firms utilizing our marketplace to hire freelance lawyers are doing so on a project-by-project, as-needed basis. This is especially helpful when the practice gets particularly busy and needs an extra set of hands, just for a short amount of time or for a specific Project.
Hire by Subscription
However, for those attorneys who want to hire a middle option somewhere between in-house associate and occasional freelancer, there's the option to hire virtual associates on a full- or part-time basis.
Attorneys may choose to do so because they want some consistency across the month, congruence across a Project, or simply because the quality of work they receive from a particular freelancer is equivalent to or higher than what they expected to get from hiring an in-house associate, and they want to keep getting that kind of output.
How LAWCLERK's Subscription Program Works
Rather than just posting projects on an as-needed basis, you can sign up for LAWCLERK's subscription program to hire a freelance attorney on a more regular basis. This program allows you to select the experience level of the virtual associate you need and hire them for the month in increments of 10 hours, up to 120 hours per month.
Not sure which level of experience or how many hours per month you need? No problem. We'll match you with a Dedicated LAWCLERK Advisor (at no additional cost) who will schedule a call to learn about your law firm's needs, and then help you create the best strategy for your practice.
Our Dedicated Advisors have helped thousands of attorneys over the years, and will use that experience to maximize your success with using our platform.
And in case you're worried that you may need more or less help — or if you're just worried about commitment in general — there's a 30-day cancellation policy, so you can change or cancel your subscription easily at any time.
Want to Learn More? 

See the article below where we go into greater detail on how our virtual associate subscription program works, what it costs, and how your firm will benefit:

How the LAWCLERK Virtual Associate Subscription Program Works
Success Stories 

Check out these real-life success stories from attorneys Eric Ratinoff and Ryan Torrens.

"I started using LAWCLERK a little over a year ago for project-based work. More recently I needed several lawyers to assist on a mass tort case, over a period of several months.  The lawyers had to gather and evaluate information for plaintiff fact sheets and coordinate documents in support of each of the plaintiffs' claims. LAWCLERK stepped up in a huge way, vetted a team of lawyers to work with us, and it has been a seamless process. I cannot recommend the Virtual Associate Subscription Program highly enough." 
– Eric Ratinoff

"I strongly recommend LAWCLERK's Virtual Associate Subscription Program. The program allows you to have a virtual associate ready to assist without the additional costs associated with an in-house associate attorney. This program is helping our firm to expand its reach and to be more efficient and effective for our clients." 
– Ryan Torrens
Note: We created LAWCLERK so that attorneys can have the best of both worlds: all the upside of a team of specialized lawyers with experience level in every conceivable area of law, but without having to hire full-time associates and add to your cost structure. Learn more and sign up here.