Over the years, we've helped thousands of attorneys connect with legal freelancers to get the help they need, when they need it most, and in this post we'll discuss:
The benefits of using LAWCLERK, our freelance lawyer marketplace, versus alternative solutions.

How to ensure you've found the best possible legal freelancer for the job.

The types of tasks that you can delegate to freelance lawyers, and how you should price your projects.
Let's dive in.
What Differentiates Our Freelance Lawyer Marketplace? 
First, LAWCLERK is the only freelance lawyer marketplace that's ethically compliant with state bars in all 50 states, and as a result, we have the largest network of experienced legal freelancers in almost every area of law. As of today, over 2,900 legal freelancers have signed up for our platform, and that number is growing. By having access to a larger talent pool, you increase your chances of finding the best possible person for the job, and on average, 12 freelance lawyers apply to each Project that's posted on our marketplace.
Second, one of the best practices of our top customers who delegate the most work (and do so effectively) is taking full advantage of their Dedicated LAWCLERK Advisor who they automatically get matched up with when they set up a free account.
The Advisor acts as a concierge (at no cost) and one of the first things they do is get on an introductory call with the attorney to get to know them and their firm, the types of cases they need help with, and how they can best leverage our platform.
Following that, they can guide you through every aspect of outsourcing via LAWCLERK, including:
Posting Projects
There's an art to posting Projects — especially more complicated ones — and finding the best way to (1) word your Project description and (2) select the correct settings as you put together a Project that's critical in getting the right applicants to apply. Once you post your first couple of Projects you will quickly master this art!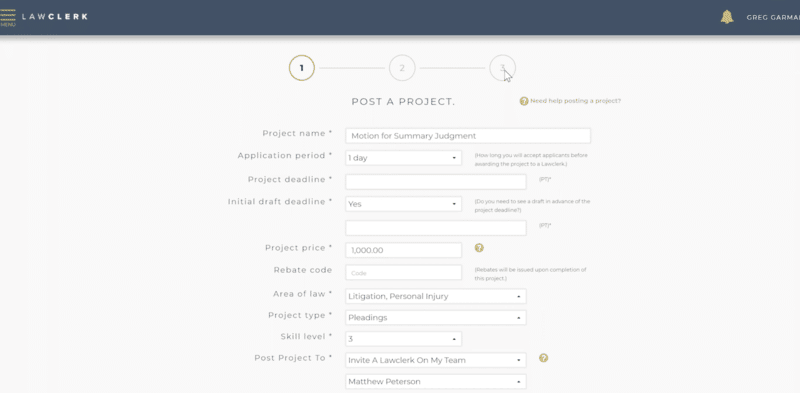 Setting a Price
One of the most common questions we get is something along the lines of, "How much should I pay a freelance lawyer for this Project"? 
Your Dedicated Advisor is always available to get on a call, estimate the Project scope (i.e. complexity, how much time it should take), and then set a price that matches that workload. As a rule of thumb, estimate the number of hours involved for the work and then pay somewhere around $100 to $200 per hour to set the flat fee price.
Selecting Applicants
A common "nice to have" problem that we hear from attorneys who use LAWCLERK is, "I don't know who to pick", because they receive so many qualified lawyers applying for their Project. In situations like this, they can use their Dedicated Advisor as a sounding board to bounce ideas off of and become more certain of choosing the right candidate for the Project.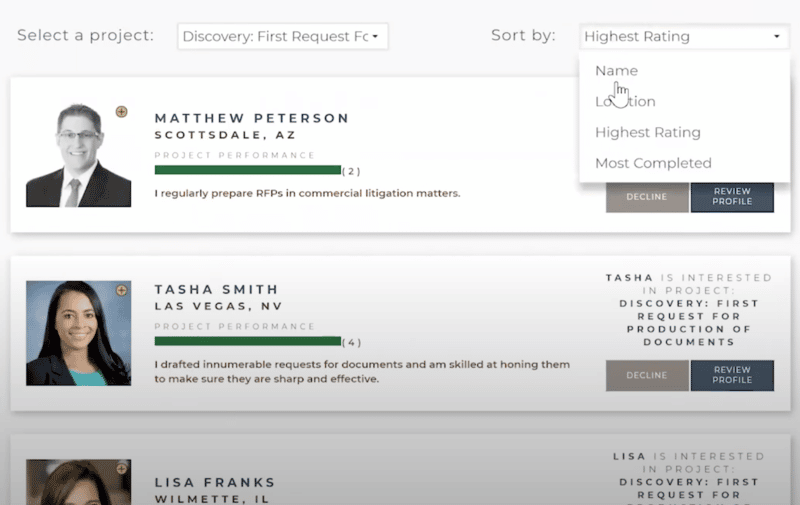 This is just the tip of the iceberg. In the video below, we dive into more detail on how to fully leverage your Dedicated Advisor, and why the attorneys who take advantage of this are seeing so much success in outsourcing.
Additional Ways to Increase Your Outsourcing Success via LAWCLERK
Hiring attorneys can pre-vet each freelance lawyer that applies to their Project by clicking on their profile and viewing their bio, resume, and writing sample. But what's most telling is their ratings and reviews for Projects they've completed for other attorneys through LAWCLERK.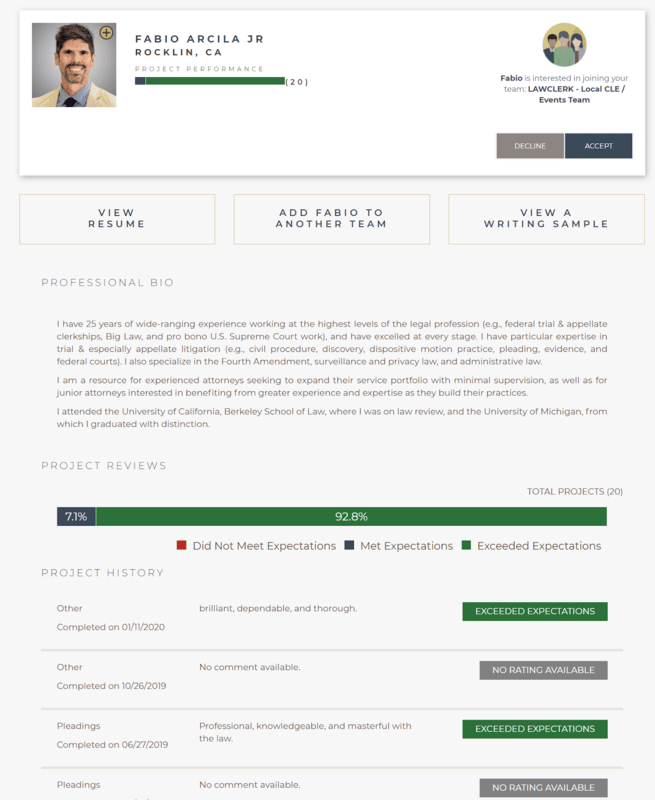 Another way we designed LAWCLERK to improve outsourcing success is via our Teams feature (see video tutorial) where attorneys can tag their favorite freelance lawyers whom they've worked with in the past, add them to specific teams, and work with them time and time again directly without having to take on applicants.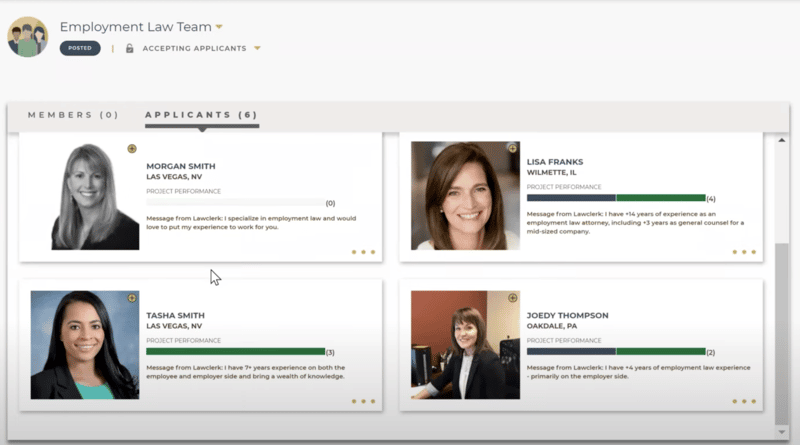 We view the Teams feature as the "secret weapon" of all of our top customers who delegate the most work to freelance lawyers, and below, we'll share several use cases that you can draw ideas from.
Use Case #1: Build different teams of your favorite freelance lawyers for all of your practice areas. 
One of our customers lives in a rural area in the Midwest, and she's a general practitioner. Any given week, she might be dealing with:
Bankruptcy law

Criminal defense law

Estate planning law

Family law

Real estate law
Within LAWCLERK, she has built robust teams for each of the practice areas above. For example, when she gets a new client for a bankruptcy case, she sends that work to one of the freelance lawyers in her bankruptcy team so they can get started on it right away.
She has 2 to 3 freelancers on each of those teams, and if you add it up, it's a bench of around 10 to 15 on-demand, virtual associates (another term we use for freelance lawyers) that all have specialized knowledge. 
What's incredibly advantageous about this is that she likely wouldn't have been able to find one "unicorn", in-house associate who knows all these different types of law, and knows them right off the bat. They would need a lot of training and hand holding from her. Instead, she has connected with some of our more seasoned freelance lawyers that already have expertise in these areas.
When she gets the work in, she can send it right to them, and since they've worked together now for a couple of years, they have efficiencies and rapport. She can tell them very baseline instructions along the lines of, "Hey, we got another divorce case. I need you to queue up the complaint and also prep the initial discovery responses. Here's my intake form". This frees up her time from this written work so that she can meet with new clients, go to court, and focus on the tasks that are the highest and best use of her time.
Because she has been using LAWCLERK for more than a year and has worked with the freelancers on her teams on a consistent basis, it is similar to having an associate down the hall, except she doesn't have to cover the overhead costs directly tied to a full time hire (i.e. salary, benefits). Instead, she pays freelance lawyers only when she needs them. This type of business model is incredibly profitable, and it's a non-trivial benefit which we discuss at greater length in our founding story.
Use Case #2: Build different teams of your favorite freelance lawyers around the various skill sets you need. 
A lot of our users with narrow practice areas build teams for specific skill sets. For example, say you run a law firm that deals with the following five tasks on a regular basis:
Demand letter writing

Document review

Contract drafting

Discovery

Appellate brief writing
You can create five teams around these skill sets, so that when a certain issue comes up (i.e. sending a demand letter), you have your rockstar attorneys that you turn to for help time and time again. They know your form, tone, and writing style, and they can complete the task very quickly.
However, writing a crisp demand letter is a different skill set than appellate brief writing, contract drafting, discovery, or document review. So we encourage our customers to think about building teams based on the type of work they need done, and then finding the legal freelancers that have those skill sets.
For more info on how to build talented teams of virtual associates using LAWCLERK and taking full advantage of our Teams feature, see the video below:
How Do I Price My Projects?
The most common support question we get at LAWCLERK is related to pricing Projects, and while there is no "one size fits all" answer, we share some successful strategies in the following video:
In addition, here are examples of recent LAWCLERK Projects, and the flat fee price range you can likely expect: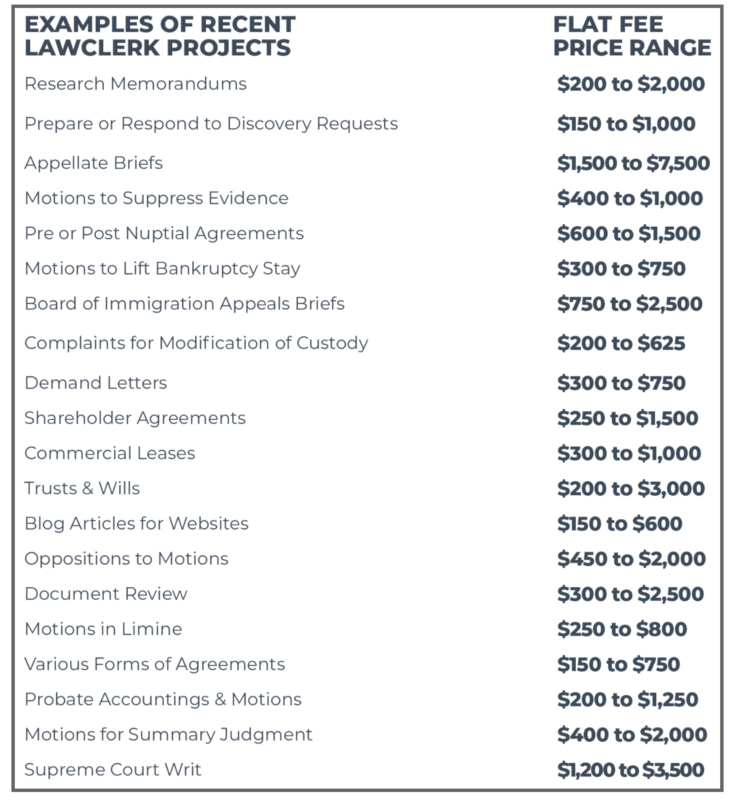 What Kinds of Tasks Can You Delegate to Freelance Lawyers?
We created a document (see here) with over a hundred ideas of legal work that you could delegate to freelance lawyers, categorized by the following areas:
Appellate

Commercial Litigation

Family

Bankruptcy

Immigration

Personal Injury

Criminal

Health

Estate Planning & Probate

Employment/Labor/Education

Intellectual Property

Business/Corporate
Would You Like to Learn More About LAWCLERK? 
For more information, visit our website, where you can find:
Customer Success Stories