When we originally launched our freelance lawyer marketplace, we designed it to work on a flat fee, per Project basis. The goal was to connect busy attorneys and firms with top tier freelance talent to get the help they need, when they need it.
The way it works is remarkably simple.
1. Hiring Attorneys Post a Project: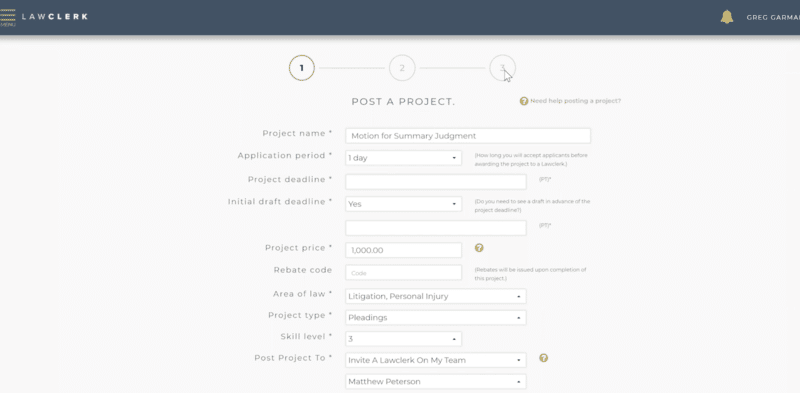 2. Candidates Apply: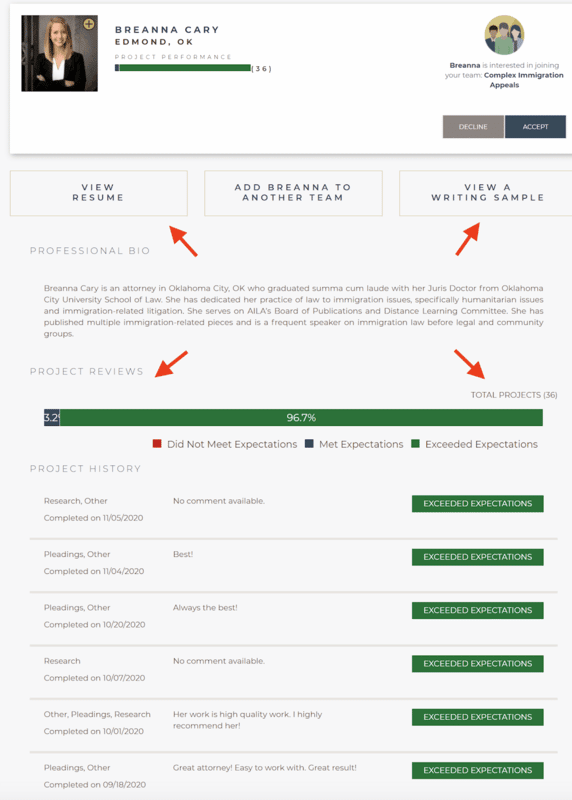 Each candidate profile includes their resume, writing samples, and reviews/ratings for projects they've completed for other attorneys on the marketplace:
Then the hiring attorney selects the best possible candidate for the job and pays them a flat fee price for the specific Project they've completed.
However, customers asked us for a way to more deeply integrate the freelance lawyers into their firm for a significant number of hours every month.
So we decided to launch a virtual associate subscription program, in which hiring firms and attorneys could select the expertise level of the freelancer and the amount of hours they'd like to use them for each month, and we'd handle the timekeeping, bookkeeping, and even tax reporting.
In this post, we'll cover:
How it works.
The benefits of the program.
Pricing.
Note: We created LAWCLERK (a freelance lawyer marketplace) so that attorneys can have a team of specialized lawyers with experience level in every conceivable area of law, but without having to hire full-time associates and add to your cost structure. For those who want more consistent help, we added a subscription-based service to help you continually produce results for your clients. Learn more and sign up here. 
How Our Subscription Program for Virtual Legal Associates Works
After we launched LAWCLERK, many hiring attorneys and firms were thrilled to have easy access to additional help with legal work. However, as we mentioned, some of them were so glad to have this service that they asked us for a way to more deeply integrate freelance lawyers into their firm for a significant number of hours every month.
Our subscription service was born of this need, allowing you to select:
What level of experience you'd like the attorney(s) to have.
How many hours you'd like to have them work for you each month.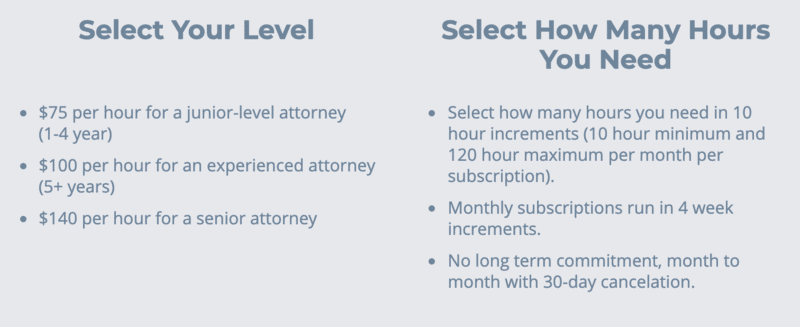 Flexible Structure
The subscription program is set up in four-week installments, at 10-hour increments. This means you can choose to utilize an attorney for 10 hours, 20 hours, 30 hours, etc. over the course of each four-week period.
There's also a 30-day cancellation notice, so no commitment is long term.
This gives subscribers lots of flexibility, as it allows you to get exactly how much help you want, at what level of expertise you need, when you need it, and without signing up for a long-term partnership.
Dedicated LAWCLERK Advisor
Each subscriber gets matched with a Dedicated LAWCLERK Advisor (at no additional cost) who acts as a concierge and helps you suss out exactly what you need in your firm each month. This can include:
Figuring out what you actually need help with. Your Advisor will help you estimate how many hours you need help with each month, and for which kinds of tasks. Will you need help with writing letters to clients, completing briefs, or something else?
Figuring out what your ideal freelancer looks like. What qualifications does the freelancer need to accomplish the above tasks for you in the time allotted? Will that be a more junior or more senior attorney? Is there a specific type of law the freelancer should have experience in, or a specific kind of task/brief/form they should already be familiar with?
A Practical Example
What does this look like in practice?
For example, let's say you're a busy family law attorney who has seen a growing demand for your services. In a given week, you think you could use an additional four to five hours of help, with tasks such as researching property issues, responding to discovery requests, and preparing various motions. Working with your Dedicated Advisor, you determine that your ideal subscription program would be 20 hours per month with a mid-level experienced attorney who has at least 5 years of experience with family law.
Using this information, your Dedicated Advisor would gather the top applicants to present to you for your review.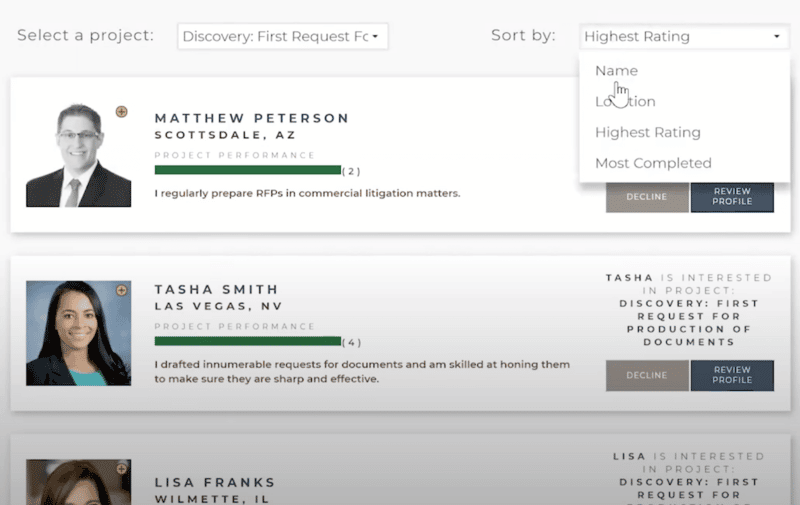 You'd then need to make a hiring decision based on the qualifications of the freelance lawyers interested in working with you. The LAWCLERK team will identify and pre-vet top rated candidates on your behalf.  Then you will be provided information about the applicants' resumes, reviews, writing samples and other pertinent information about why they are uniquely qualified for your subscription.
And, you can even ask your Dedicated LAWCLERK Advisor to set up interviews by phone or video conference to get to know your favorite candidates better, since you will be working together closely on an ongoing basis.
What If You Need More Help in a Given Month?
The great thing is that, even if you're set up for a subscription to work with a specific attorney, you can still post projects on an as-needed basis.
This is especially helpful if a need arises for help on a one-off Project, or if a particularly busy month leads to needing some overflow assistance without increasing your subscription.
Need help from someone with expertise in a particular kind of case law? Want someone to pick up some smaller projects who might be at a less expensive level than the subscription you have set up? Post these projects as they arise, separately from your subscription.
A Subscription That's Worth It
We know first hand that the hiring process can be overwhelming and time-consuming. That's one of the main reasons we at LAWCLERK built our subscription program.
We do the heavy lifting for you — to find top talent you can then hire in a very limited and flexible way, and which can adapt as the needs of your law firm continues to evolve.
For those who may have worried that hiring via a subscription service negates the flexibility of using freelancers, the 30-day cancellation notice assures our subscribers that they won't get locked into a situation they can't — or simply have no need to — maintain. Meanwhile, you get more of the consistency of working with the same freelance lawyer on a recurring basis, just like you would if you were to hire someone in house.
Just ask Ryan Torrens: 

"I strongly recommend LAWCLERK's Virtual Associate Subscription Program. The program allows you to have a virtual associate ready to assist without the additional costs associated with an in-house associate attorney. This program is helping our firm to expand its reach and to be more efficient and effective for our clients."
The Benefits of Hiring Freelance Attorneys on a Subscription Basis
While reducing overhead costs is a major advantage of working with freelance lawyers on a subscription basis, there are many more benefits involved.
Have an Additional Stream of Billable Hours
Utilizing a freelance lawyer allows you to continually have an additional stream of billable work coming out of your firm each month. Per ethics rules and opinions, you can bill the time of a freelancer to a client at a reasonable market rate.
For example, let's say you are a busy attorney who hires a freelancer to help at 40 hours per month, and your practice specializes in IP and trademark litigation. Based on the freelancer's seven years of experience and your particular market area, the "reasonable market rate" to bill for that attorney's assistance may be upwards of $400 per hour (or more). Taking this example rate times 40 hours, that's an additional $16,000 worth of billable hours each month.
Even at our highest subscription rate of $140 per hour, that's a cost to you of only $5,600 per month.
Meaning you could net $10,400 from that one freelancer alone each month — or an extra $124,800 per year.
Again, that's just an example, and we can't guarantee those exact figures. But the potential to increase your billable hours and your firm's revenue is vast.
Work Less Yourself
Plenty of attorneys assume that to make more money, they need to work more. But per our above example, that's not always the case.
Rather than burning the midnight oil and burning themselves out, utilizing a freelancer has helped many lawyers do less work or focus talents on more important work.
Instead of dealing with smaller projects and seeming "busy work," you can delegate those to a freelance attorney and spend your own time on driving more business, acquiring new clients, marketing your firm, or simply diving into the strategy work that makes clients feel like they're getting the best help they can find.
Lock in Top Talent (And Skip Posting and Screening Constantly) 
Another key benefit of utilizing a subscription service for freelance attorneys is that you can work with the same attorney on a regular basis. Even if you've worked with a freelancer already and know the basic benefits of hiring one, you may also know how great it is when you sync up with great talent and therefore want to work with that person continuously.
By signing up for LAWCLERK's subscription-based service, you can ensure you have the same lawyer working with you across the month, a specific case, and/or a specific Project. This is especially helpful if you'd like the same person assisting you over the life of a case, so they too can become familiar with it.
This ensures you'll have the lawyer you want when you want them, rather than posting a Project and simply hoping that lawyer has the bandwidth to take on your Project and that they aren't already booked.
Many of the most in-demand lawyers book up quickly, so subscribing for their time is the best way to ensure you get to keep working with them.
This also ensures you won't need to:
Stop what you're working on to post new Projects.
Wait for applicants.
Screen those new applicants every time you have a new Project.
As an example, one of our early subscribers was working a very high profile class action lawsuit involving hundreds of plaintiffs. Eric Ratinoff was able to utilize LAWCLERK's subscription program to hire not one but five freelance lawyers to assist with reviewing and analyzing claims as well as coming up with a discovery strategy for each of the plaintiffs.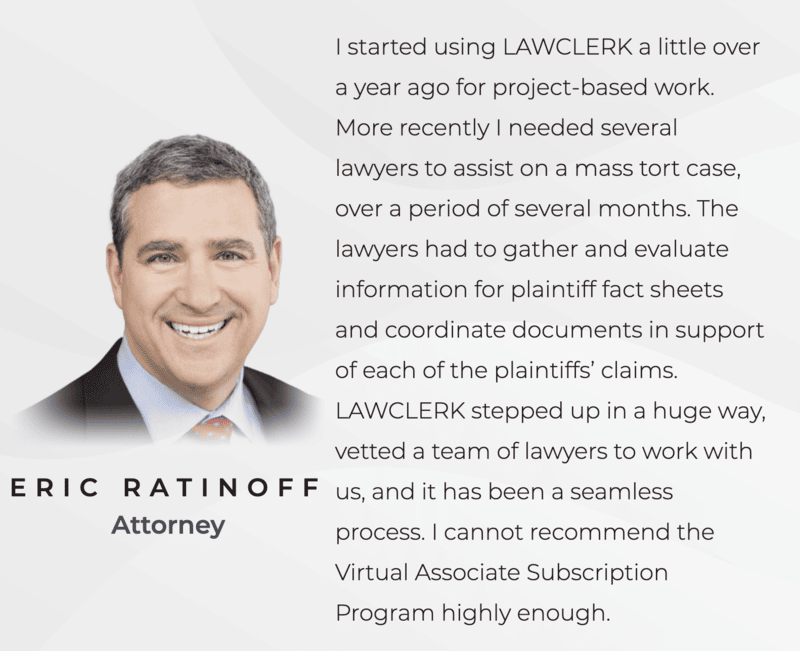 In a case like this one, lawyers can potentially follow throughout the life of the case to assist with responding to discovery, handling pretrial motions, doing additional research, and countless other tasks needed to see the case through to completion.
Subscription Program Pricing
As we mentioned earlier, billing for the LAWCLERK subscription program is based on the level of experience you need in an attorney, and the amount of hours you need them for each month.
Hours can be selected in increments of 10 hours — from 10 hours per month up to 120 hours per month.
Attorney experience levels and prices are as follows:

Also, as we've discussed, if you're not sure where to start, your Dedicated LAWCLERK Advisor can always get on a call, talk through your specific situation, and help you determine exactly how much time to sign up for, as well as which level of experience you'd need the freelancer to have.
Note: We created LAWCLERK (a freelance lawyer marketplace) so that attorneys can have a team of specialized lawyers with experience level in every conceivable area of law, but without having to hire full-time associates and add to your cost structure. For those who want more consistent help, we added a subscription-based service to help you continually produce results for your clients. Learn more and sign up here.