Many of the attorneys we speak to think that outsourcing is only meant for simple tasks like research projects or document review. But the fact that we have so many appellate briefs going through our marketplace completely dispels that myth.
Time after time, attorneys hire freelance lawyers on our marketplace to get help preparing their appellate briefs, and they're blown away by the credentials of the freelance lawyers and the quality of work that they receive (as we discuss in greater depth in a recent sit-down interview with a customer).
In this post, we will:
1. Make the case for why our freelance lawyer marketplace is the best available solution for attorneys looking to find incredibly skilled and experienced appellate brief writers.
2. Share specific examples of attorneys who delegated work to appellate brief writers on our marketplace and the approach they took (i.e. the wording they used in their project description, the price they paid at the completion of the project, and so forth). By seeing what our customers have done, you'll get a better idea of how to leverage appellate brief writers in your own practice.
Let's dive in.
Who We Are 
At LAWCLERK, we help match up attorneys and firms of all sizes with our nationwide network of freelance lawyers. No matter where you are, or what you practice, we have folks who can help you when you're slammed and need an extra set of hands.
You can connect with our freelance lawyers to get work done on a project-by-project basis at the flat fee price you set. There's no signup cost or monthly fees.
When you sign up, you'll be matched up with a dedicated advisor who acts as a concierge (at no cost) and can provide guidance on tasks like pricing projects and picking the best possible freelance lawyer for the job.
What Makes Our Freelance Lawyer Marketplace Better than Alternative Solutions? 
Because…
We built the only freelance lawyer marketplace that complies with the model and ethics rules of all 50 states.

Over 3,000 freelance lawyers (many of whom specialize in appellate brief writing) have joined our marketplace thus far, and that number is growing every day.
This means that you have access to a greater talent pool than any other marketplace or appellate brief writing service.
On average, 12 freelance lawyers apply to each project, and hiring attorneys who try out LAWCLERK for the first time are often surprised by the skillset and credentials of folks that are available to help them.
For example, Nareissa Smith is a former law school professor from North Carolina and a top-rated freelance lawyer on our platform who focuses her work on appellate brief writing. Thus far, she has completed 26 projects all with a 100% "Exceeded Expectations" rating: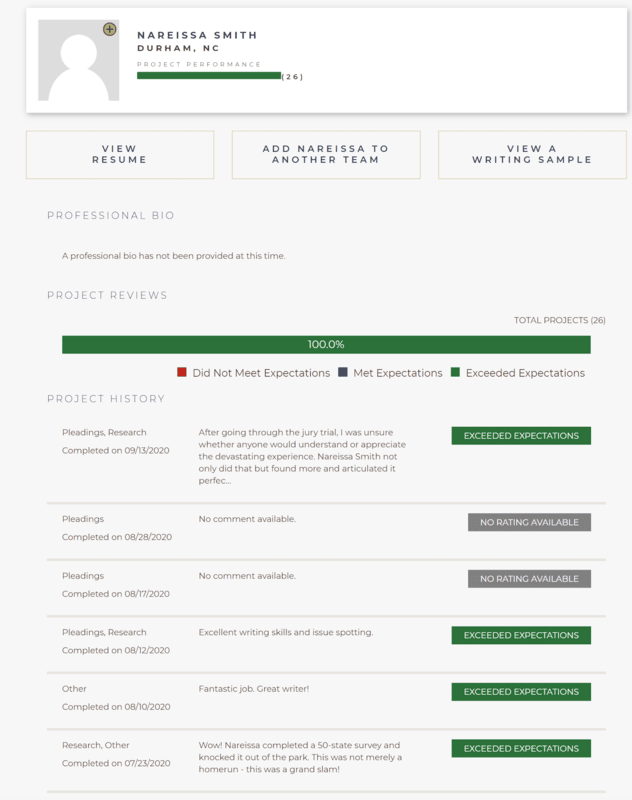 Nareissa Smith is just one of our many top rated appellate freelancers, and as you can see in the above screenshot, candidate profiles not only include ratings and the number of projects each freelance lawyer has worked on, but also their resume and a writing sample.
The critical information you need to pick the best possible candidate is right there at your fingertips.
Note: Would you like to post your first project on LAWCLERK today and connect with incredibly talented appellate brief writers? Learn more here and sign up for a free account. 
Examples of Customers Who Have Delegated Work to Appellate Brief Writers on Our Platform
We created a document (see here) with around 30 appellate projects that were recently posted on LAWCLERK by our customers. Going through this document will give you a good idea of how other lawyers are working with appellate brief writers, the types of tasks they commonly delegate, what they're paying to get those tasks successfully completed, and how you can do the same.
Here are just a few examples from that document:
Research and Draft Appellee's Brief 

Project description: "The assignment is to prepare a complete draft of the appellee's brief in a dispute over whether an easement was extinguished under a federal forfeiture statute".
Project details: "The brief has a limit of 15,000 words, but will likely be about half that and perhaps even less. The main issues were decided by summary judgment, so the record is short (less than 400 pages). I would expect a draft to take about 20 hours".
Flat fee: $2,000
Review that was left for the freelancer by the hiring attorney: "Rob is a very good researcher and writer. He analyzed some tough appellate issues and put together a draft brief that was very complete and thorough. He is very responsive and quick to turn work product around. I will definitely use him again."
Appellant's Opening Brief 

Project description: "I need someone to review my client's record and draft the Appellant's Opening Brief. This is an appeal from a malpractice lawsuit where my client was the plaintiff in the trial court and is the appellant in the Court of Appeal."
Project details: This is a lengthy record and I need someone who can review it, spot the issues, and write a persuasive Appellant's Opening Brief. I will provide a sample Appellant's Opening Brief as a template.
Flat fee: $1,500
Review that was left for the freelancer by the hiring attorney: "Samuel reviewed a very extensive record, spotted the strongest appellate issues and drafted a very well written and persuasive Appellant's Opening Brief. He was also very responsive throughout the process. He provided me his research and some notes he took related to the case, which was above and beyond what he was asked to do. Samuel exceeded expectations beyond belief."
Additional Examples 
For more examples like this, as we've mentioned, see our document with around 30 appellate projects that were recently posted by our customers, including the project description/details, flat fee, and freelancer's review at the completion of the project.
Common Reasons Attorneys Delegate Work to Appellate Brief Writers
First, many attorneys who do appellate work are trial attorneys by nature. They may be up against a demanding trial calendar, and they have other motions and pleadings due. It's hard for them to carve out the big blocks of time they need to draft an effective appellate brief. So they leverage their time by delegating the work to a freelance lawyer.
Second, because litigation can drag out for years, sometimes attorneys get so deep into the case that they can't see the forest for the trees. And when they get to the stage of filing an appeal, it's incredibly advantageous not only for the attorney, but for the client to have a fresh set of eyes come in, look at the case from a 10,000 foot level, and draft that brief.
The freelance lawyer hasn't lived and breathed the case for years, so they may have a more independent perspective on what issues are most relevant and compelling to the court in considering that appeal. That can be a significant game changer when drafting a brief. Many of our freelance lawyers have clerked at appellate courts. We even have freelance lawyers on our marketplace who are more experienced than the attorneys who hire them.
For example, there's a large segment of lawyers who are either semi or fully retired, and they're so passionate about the law that they can't give it up completely. These are attorneys that may not have the desire anymore to run their own practice or interface with clients, but they love to research legal issues, and can either draft an entire appellate brief from start to finish, or simply provide mentorship and a second pair of eyes to an attorney who would like to draft the brief themselves.
This is especially advantageous for (1) solo attorneys who don't have another colleague readily available to bounce ideas off of and (2) attorneys who are early in their career and still developing and honing their own legal skills.
Note: If you're curious about the benefits of delegating all types of legal work (not just appellate brief writing) to freelance lawyers, we discuss it at length here. 
Interested in Learning More About LAWCLERK?
For more information, see our FAQ page: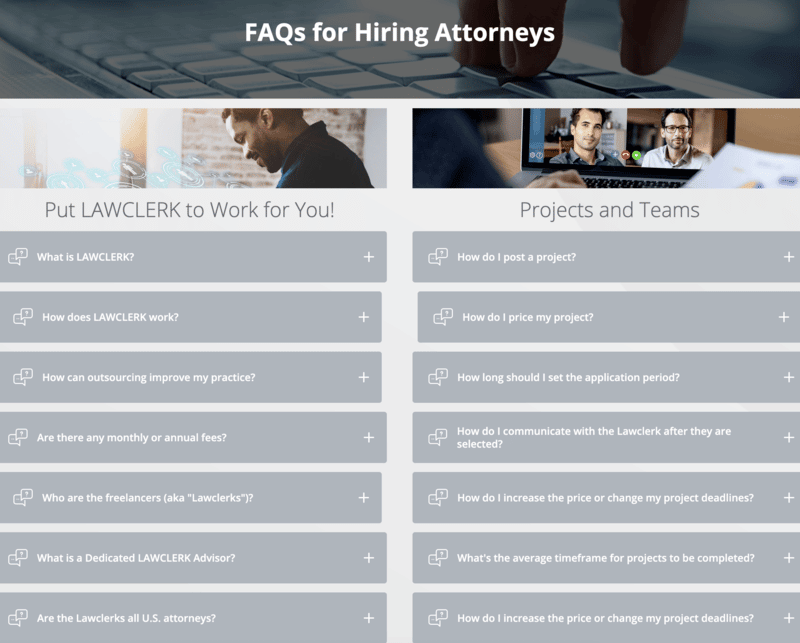 In addition, visit our attorney resources page to find useful documents such as our "Ultimate Guide to Legal Outsourcing", sample projects by area of law, webinars and tutorials, and much more: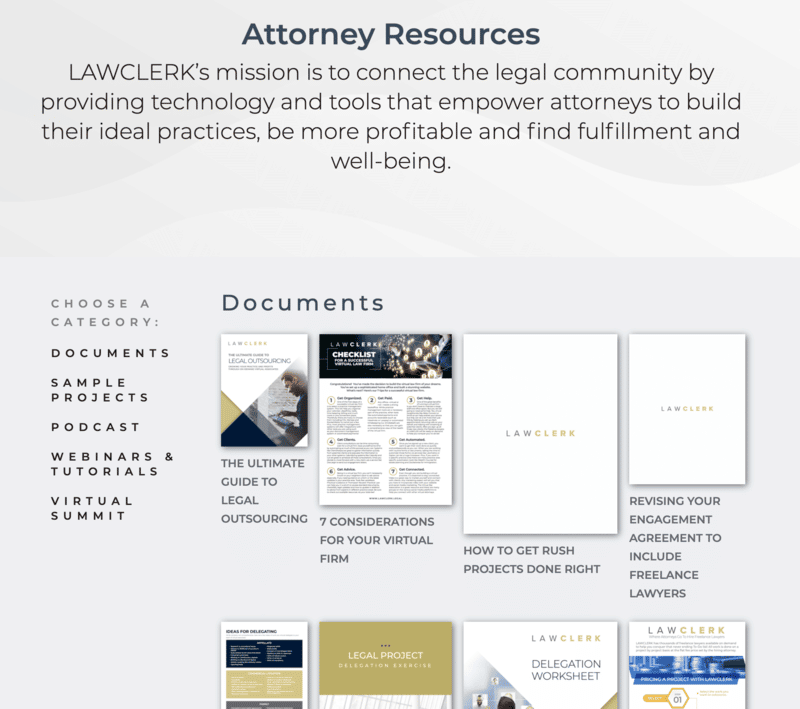 Note: Would you like to post your first project on LAWCLERK today and connect with incredibly talented appellate brief writers? Learn more here.