The keys to run a profitable law firm are tied to automation and outsourcing routine and administrative tasks (or tasks that you really don't enjoy) so that you can focus on the legal work that requires your expertise. Many digital tools can help you streamline your law practice, save you time, and ultimately lead to greater profitability. In short, adopting digital tools is going crucial.
Automate your client intake
You already do client intake, whether that's having a new client sit with a paralegal to answer questions, a phone conversation to gather details, or an electronic form. Consider moving to an electronic intake process allowing the client to fill in at least the initial questionnaire. This helps to ensure that you capture more accurate information and saves you and your client time and money spent on information gathering.
LAWCLERK Co-Founder, Greg Garman, spoke in-depth about this on our podcast The Successful Business and Practice of Law. Student loan attorney, Stanley Tate has built a massive automated marketing machine in a very niche market. You should take a listen to that episode. Tate shares powerful insight on how automation can contribute a profitable law firm.
As a result of the pandemic, law technology has been moved up in the order of priority for many practices. Many practice management software solutions and standalone services exist for electronic intake and are now more widely used. It's good practice not to intake sensitive information in non-secure formats like Google Forms. Some intake solutions can be integrated with automation tools. For example, your practice management system may allow you to map intake answers to codes that can be embedded in your Word documents for direct automation. ClientRock is a robust client intake tool that not only allows you to capture information through intake questionnaires, but you can also schedule consultations, accept payments, store documents, collect signatures, and communicate with your clients all in one place.
Utilize online calendars to schedule clients and other meetings
It's likely that you have already used these tools as a consumer, booking an appointment for a haircut or massage for example. Online scheduling tools eliminate the headache of going back and forth to find an agreeable meeting time and allows you full control over your schedule. When integrated into your law tech stack, this can can save a ton of time for small law firms. You can set limitations on how far in advance an appointment can be scheduled and when you are available for meetings. You can grant your law firm support staff access to this calendar, embed your calendar link into your website or social media channels, and even create multiple calendars for different meeting types. It's also a quick, convenient way for clients to schedule time with you around their availability. Additionally, some scheduling tools allow you to attach questionnaires to be completed upon signing up for a time on your calendar and give you the ability to connect your online payment platform to collect any booking fees or retainers up front.
There are several solutions available to fit your specific needs and that possibly integrate with other software you use. You may even have these scheduling capabilities within your practice management software. Some affordable, stand-alone solutions include Calendly and Acuity Scheduling.
Use digital platforms for internal and external communications
Many law firms communicate both in their law firm and with clients by e-mail or text messaging. E-mails are not secure unless they encrypted and it's unlikely that you are encrypting them. It's a bit of a hassle for all parties. For immediacy, portability, and for those clients who may find other communications challenging because of the need for privacy or limited technology proficiency, giving your clients a text option should be considered. If you are using one of the popular VoIP providers, like RingCentral, you may have business text messaging available. For a fast and free option, you could get a Google Voice number for text messaging. While certainly not the best option, you can send emails to text and receive text to email. Some practice management and CRM applications also have text capability.
Using a secure client portal for intra office and client communications is an ideal solution for securing, documenting, and collaborating on client matters. Since a client portal assists in reducing interruptions of the attorney workflow from traditional communication channels such as telephone calls, the attorney can focus on other activities. As a result, a client portal makes the client servicing processes much more cost effective and efficient. Because of their experience with client and patient portals when interacting with other professionals, such as accountants, bankers and physicians, many clients have expectations regarding the use of technology in communicating with service providers. Failure to act in accordance with these expectations can result in the client perceiving that the attorney lacks technological competence and such a perception may result in a client seeking other counsel in future matters. Most law practice management tools, like MyCase, provide client portals.
Video conferencing software, like Zoom, adds another layer of convenience for clients and efficiency to your law practice. It's convenient, personable, and flexible. Using a chatbot on your website is also a great way to engage potential clients and add an extra layer of customer service. Many website builders, like WordPress, have chatbot widgets that you can install on your website but virtual receptionist services, like Smith.ai, often offer a chatbot solution as part of their service as well.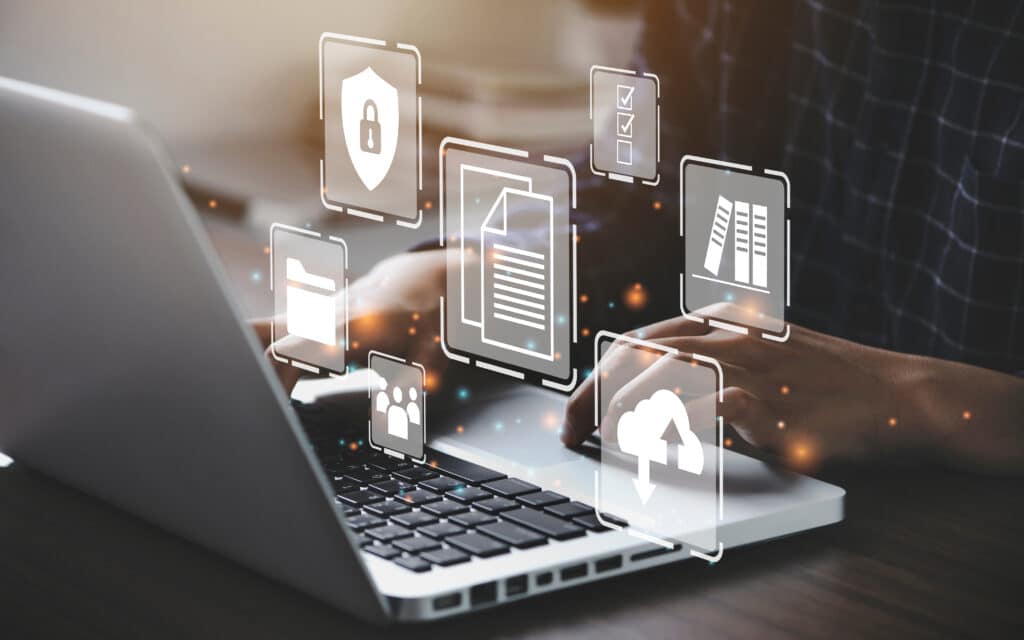 Invest in law practice management software
Legal practice management software provides lawyers with 24/7 access to their law firm's data from any location using an internet-enabled device. It offers lawyers the convenience of mobile, flexible access to case-related information at an affordable, cost-effective price. There are several cloud-based options to choose from, including Clio, Smokeball, and PracticePanther to name just a few. In addition, there are many other practice area specific solutions such as CASEpeer and Docketwise.
Law practice management software offers functionality for assigning and managing tasks and to-dos, along with calendar management features. Some include task management features that allow you to establish task templates for workflows at the start of a case that automatically calendar important dates that relate to specific types of cases. Others include rules-based calendaring features that automatically apply the court rules and statutory deadlines of specific jurisdictions to the due dates of a particular matter at the start of a case. Again, your law tech stack is probably already in place. You may just need to better organize how you're using it.
Another important element is time-tracking. This allows you to track and enter time contemporaneously no matter where you are using a mobile device, ensuring that you capture and charge for all your billable time.
Automate your workflows and documents
Automating your workflow and document assembly can save you a ton of time, create consistency, and help to reduce human error in drafting. There are a lot of great automation tools but getting them to work with each other can be a challenge. Three of the top contenders in the automation workflow space are IFTTT, Zapier, and Microsoft Flow. These and similar applications allow you to connect the various web services you use to one another so that your apps and devices are communicating. A great reason to use software as a service (SaaS), is that apps can communicate with one another via an application programming interface (APIs) and automatically trigger different functions and events between the applications.
Document automation (also called document assembly) software uses your document templates and information from a form or other source, like your law practice management software, to assemble documents for you. There are several ways that you can automate your documents, including software that provides information on document revisions and makes sure you are using the most recent version of a template, document management programs that create reusable templates, programs that can create a guided interview and then use the client's answers to automatically create a document, using conditional logic to have certain text in your assembled document included only under certain conditions, to generate tables of any size and place them in your assembled document, or to perform calculations based on numerical or text input.
Very few law practice management solutions provide full document automation but some common stand-alone document assembly options are Documate, HotDocs, and Lawyaw.
Adopt a system for document storage and file sharing
One key feature included in most case management solutions is document management, which provides a built-in organizational system for your documents and often includes document collaboration and sharing features that allow secure external sharing with clients, co-counsel, experts and more. Box and Dropbox are popular stand-alone document management tools.
Collect signatures electronically
Many legal documents can be executed electronically. There are a number of signature tools, like HelloSign and Docusign, that help to securely send, sign, and notarize documents online. Many e-signature platforms have integrations with other software services to help seamlessly include obtaining signatures into your workflows. By accepting signatures online, you can reduce time spent meeting with clients for signatures or money spent on paper and postage used to execute and deliver the documents.
Send electronic invoices
Invoices can often be created and sent with your practice management software, time and billing or accounting software, like QuickBooks Online. Recurring invoices can also be preset to help get your law office paid faster. If you don't currently take credit cards online or allow for ACH debits from bank accounts, you should consider it. If your firm uses a merchant services provider for other types of payments, then you likely already have the option of sending the client a link to pay online or it may integrate with your practice management solution. Keep in mind that taking credit cards electronically requires PCI compliance, so it is best to let a merchant equipped for this type of security protocol handle it. Do not ask for a credit card via email or online form and be sure that you can maintain operating and trust accounts separately so that you can take payments for either account without co-mingling funds. Also, depending on how the client is billed, the type of service offered, and the collection rules in your jurisdiction, you may be able to set up auto-draft payments for clients on payment plans.
Market your law firm online and collect data
Combining technology and marketing efforts can allow you to communicate more efficiently and connect more effectively with your clients. How you reach your clients helps to shape your relationship with the client. Investing in marketing can be costly so it is important to invest your time and money in effective marketing tools. One of the best and most cost-effective marketing tools is social media, which allows you to pay to promote your law practice content. Your clients are on social media. However, simply having a social media presence is not enough. You must select the social media platforms that are the best fit for your firms and actively and consistently be social on those platforms. This means both posting and engaging with your audience. Once you have clarity on where to market your law practice, then you can utilize tools like Hootsuite, to manage your social media content and schedule it to post.
You can use graphic design tools like Canva to create graphics for your posts. Video is also a very effective way to utilize social media. Creating videos providing valuable content to the viewers rather than only posting sales videos or content helps legal consumers to better know and relate to you. You can simply create videos on your phone or if you want something more polished you can use a tool like Vimeo.
If you need help creating online content that will increase your online visibility, tools like SEMRUSH, can help you optimize your content to attract viewers, keep you updated on competitors, manage your content, and even help with your paid marketing efforts.
Of course, once you have launched your marketing, whether on social media or another form of online marketing, you should be tracking your key performance metrics to ensure that you are spending your time and money most efficiently. Tools like SimpleKPI help you to track these important metrics and other business data through dashboards and reports.
Get organized with project management software and customer relationship management (CRM) platforms
These are also useful tools in automating your workflow. Project management software, like Asana, is used for project planning, scheduling, resource allocation, and change management. CRMs, like Lawmatics, are designed to compile customer information across different channels or points of contact between the customer and the business, including social media, website, phone calls, and snail mail, into a single database so it is easily accessible and manageable.
These are just a few legal technology tools that can help legal professionals eliminate time spent on administrative tasks, create a better attorney-client experience, reduce overhead expenses, and boost your bottom line. It can be overwhelming to imagine implementing all these tools but start with your greatest need and then incorporate these tools over time. And of course, you can save time by outsourcing the set up and execution of these and other solutions by leveraging the time and talent of remote freelance attorneys from LAWCLERK.