LAWCLERK's Virtual Associate Subscription Program helps busy attorneys and law firms hire as much – or as little – of a Virtual Associate as they need on a monthly basis.  Read more below and we invite you to join us for a webinar on January 14, 2021 to learn more.
Attorney Ryan Torrens of Tampa, Florida has been a part of the beta testing process and says: "I strongly recommend LAWCLERK's Virtual Associate Subscription Program. The program allows you to have a virtual associate ready to assist without the additional costs associated with an in-house associate attorney. This program is helping our firm to expand its reach and to be more efficient and effective for our clients."
Why Subscription?
The LAWCLERK marketplace remains the perfect solution to get project-based work done, like appellate briefs, motions, research memos, and one-off contracts.  But, many of you have told us that you want more.   We built the subscription Program for those attorneys that are looking for a quarter, a half, or more of a virtual associate.  For attorneys who want to more deeply integrate our Virtual Associates into their firms and to assign Virtual Associates to the life of a case.  And those attorneys that want to use the deep subject matter expertise of our Virtual Associates to expand into new practice areas or take on bigger cases.
How Does it Work?
If you've already been using the talented freelance lawyers at LAWCLERK to power and grow your firm, then you are going to love our Virtual Associate Subscription Program.  We have built it to be incredibly user friendly and flexible.
The first step is to log into your LAWCLERK account and click on the new Subscriptions tab to post your request for a new subscription based Virtual Associate.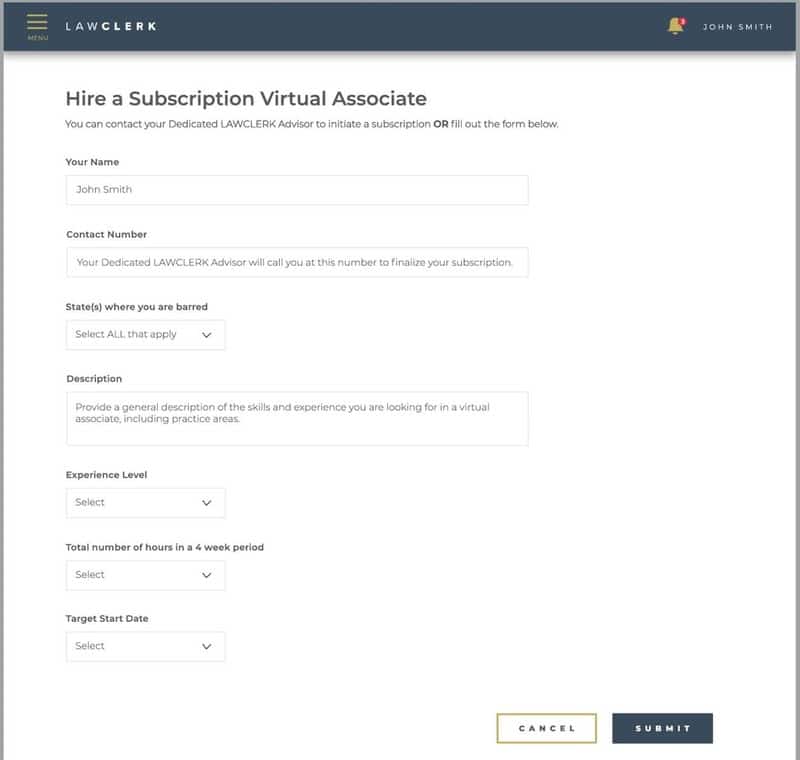 Your Dedicated LAWCLERK Advisor is available to help you identify the ideal skillset and experience level you need from a Virtual Associate.  Once the subscription application is posted, you can review the applicants and even set up interviews to find the talent you need from our pool of thousands of highly skilled lawyers.
Working with the same Virtual Associate(s) month after month will help you more fully integrate them into your firm but still avoid the high overhead and headache of a traditional associate hire.  Your Virtual Associate can help you get more work done, record more billable hours, and grow your firm.
We are committed to helping you do what you do best – practice law!  With the help of your Virtual Associate, not only can you get more work off your To-Do list, but you will thrill your clients and bring down your overhead.  Plus, we'll handle all the administrative work and tax reporting by issuing a 1099 to your Virtual Associate at year end.
What Does it Cost?
The cost of your monthly subscription will depend on the talent level you need.  We offer three unique levels:
Junior level attorney with 1-4 years' experience = $75 per hour
Experienced attorney with 5+ years' experience = $100 per hour
Senior attorney with the highest level of experience and expertise = $140 per hour
Not only do you set the rate, but you establish the number of hours you need from your Virtual Associate – from 30 to 120 hours per month.  But we also know that work ebbs and flows and so we provide you the flexibility to exceed the set number of hours in any month.
Now, it's important to keep in mind that while you may initially view this as a cost – it's not!  Working with a Virtual Associate is a profit center.  Yes – you read that right, profit center!  The ethics rules and opinions all overwhelming provide that an attorney may bill the time of a freelance lawyer to their client a reasonable market rate.  This means that if you work with a Virtual Associate for 40 hours a month, you can bill those 40 hours to your client(s) at a reasonable market rate to generate additional revenue and profit into your firm – just like you would with an associate you employ full-time.
And we make billing easy!  The Virtual Associate keeps contemporaneous time records within LAWCLERK.  Not only do you always have access to those time records, but we will email you their time records once a week to make billing to your clients a breeze.
Plus, there is no long-term commitment as the subscription is cancellable upon thirty days' notice.
Who Can It Help?
The powerful thing about LAWCLERK's nationwide network is that we have remote work tools to help you power and scale your firm no matter what stage of growth you are in.
Just need sporadic help from time to time or when unique issues arise?  Awesome.  Post a Project and get the help you need.
Have a few favorite freelancers to help with the ebbs and flows of your practice? Fantastic!  Build a team of your favorite freelance lawyers so you can post Projects directly to them when work picks up.
Are you constantly slammed with a specific type of work and want somebody who knows your cases and lives them with you?  Then we have good news for you – the Virtual Associate Subscription Program was built with you in mind.
The Virtual Associate Subscription Program allows you to integrate a virtual associate more fully into your firm.  This allows you to get the help you need from your preferred freelancer on an ongoing, regular basis but still have a ton of flexibility along the way.  Keep in mind even if you sign up for our Virtual Associate Subscription Program you can still post Projects to the same freelancer or other freelancers when you need additional help.
Attorney Eric Ratinoff from California reports the following:  "I started using LAWCLERK a little over a year ago for project-based work. More recently I needed several lawyers to assist on a mass tort case, over a period of several months.  The lawyers had to gather and evaluate information for plaintiff fact sheets and coordinate documents in support of each of the plaintiffs' claims. LAWCLERK stepped up in a huge way, vetted a team of lawyers to work with us, and it has been a seamless process. I cannot recommend the Virtual Associate Subscription Program highly enough."
Are There New Workflow Tools?
Yes!  When you start a subscription, you and your Virtual Associate will have a new dashboard within which to share documents, to communicate, and to video chat.  And, you will have the option to create new matters within the dashboard, making it even easier to manage documents and communications regarding a particular client or case.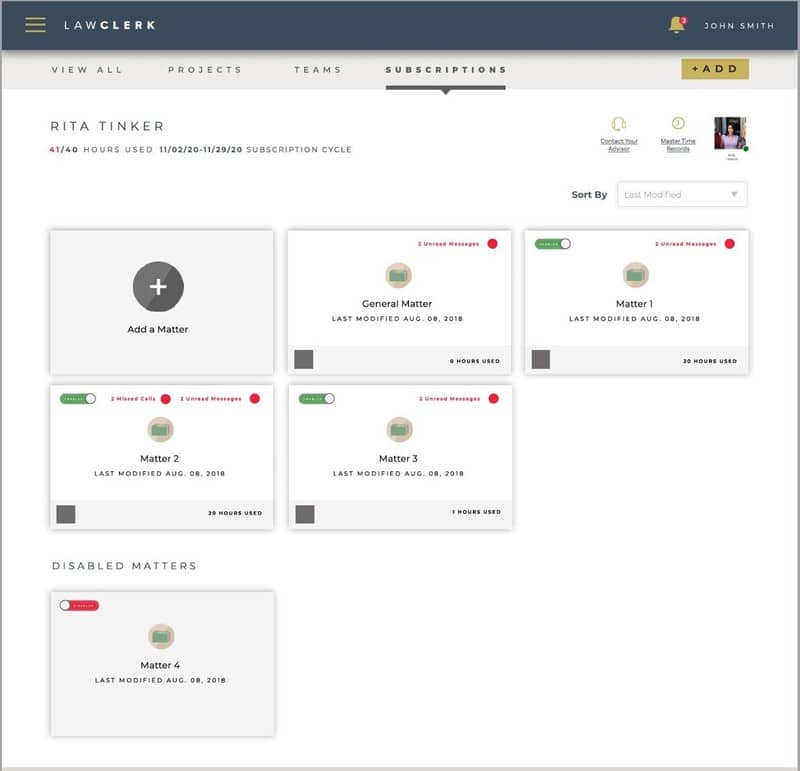 And, your Virtual Associate can keep their time within a particular matter, which will roll-up into the master time entries, making billing your Virtual Associate's time to your clients even easier.
What are the Benefits?
We could go on and on about the countless benefits of using our new Virtual Associate Subscription Program to power your law firm.  However, we know your time is valuable so here are just a few for you to consider:
Grow and build your firm without the major commitment of hiring a full-time associate.
Quickly find talented, qualified candidates – superior to what you would find in traditional hiring strategies.
Find a highly qualified freelance lawyer for as much time as you need them.
Streamline your workflow and eliminate the need to post multiple projects and calculate out pricing.
Lock in the talent you need so your favorite freelancer is always available to you.
When Can I Get Started?
So, what are you waiting for?  If the Virtual Associate Subscription Program sounds like a great fit for the needs of your busy law firm, then connect with your Dedicated LAWCLERK Advisor today.  If you aren't sure who your advisor is or if you haven't yet registered for an account with LAWCLERK, then feel free to reach out to us by email support@lawclerk.legal or by phone (888) 479-5728.
As always, if you have any questions specific to your practice, we want you to know that the LAWCLERK team is here for you!  If you haven't yet registered for your own account with LAWCLERK, we invite you to book a demo session or check out our Attorney Resources page to learn more!