Over the years, we've helped thousands of busy hiring attorneys delegate legal writing work to freelance lawyers.
By outsourcing legal writing work, you can:
Increase your law firm's profitability. It's ethically permissible in all 50 states to make a profit on the time of freelance lawyers by charging a reasonable market rate to your clients for their work.
Free up more time to focus on the tasks that are your highest and best use (i.e. meeting with clients, going to court, business development and so on).
Tap into deep subject matter expertise and expand into new practice areas. For example, a bankruptcy lawyer working on a case that requires intellectual property expertise could hire a freelance lawyer with that specialized knowledge to help with the case on a one time basis.
Reduce overhead. Unlike full-time, in-house associates, freelance lawyers don't have overhead costs tied to them. Only pay them when they're actually doing work for you.
Once you've decided to delegate legal writing work to freelance lawyers, how can you ensure you've found the best possible talent to help you? 
In this post, we'll answer that and cover:
What differentiates LAWCLERK (our freelance lawyer marketplace) from other legal writing services and solutions, and why we think it's the best place to get a high quality work product.
Examples of highly talented freelance lawyers on our marketplace (i.e. their credentials and experience, Project reviews and ratings, etc.)
Legal writing projects that you can delegate to freelance lawyers (to give you ideas you may not have considered before).
Note: At LAWCLERK, we help match up busy attorneys (primarily solos and smaller firms) with our nationwide network of freelance lawyers, who have experience in all areas of law. There are no signup fees or monthly fees, and you only pay when you're actually hiring someone to help you with work. It's a flexible, affordable way to get the help you need, when you need it. Learn more and sign up here.  
What Differentiates Our Freelance Lawyer Marketplace?
When we launched our marketplace, one of the main questions we had was: Could we attract talented attorneys, with expertise in all areas of law, to sign up to our platform and work on a freelance basis?
As it turns out, the answer was a resounding yes. We have an incredible array of attorneys from all over the country, with all levels of expertise, who want to take on freelance legal work. They are former big law attorneys, law professors, retired or semi-retired attorneys, stay at home parents, or military spouses… The list goes on. They freelance for a variety of reasons — whether it's earning more, having the personal freedom to work when and where they want, or spending more time with their families.
We're proud that over 3,500 freelance lawyers have joined our platform (more than any other competing solution).
What does this mean?
By having access to a large network of freelance lawyers, you increase your chances of finding the best possible talent. If you post a Project on our marketplace, on average, 12 candidates will apply.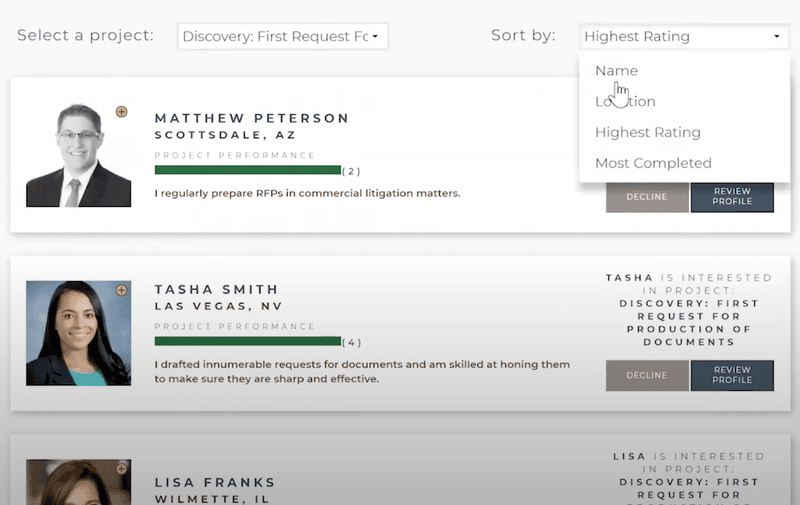 All the information you need to make an informed decision is easily accessible. Each candidate profile includes a bio, resume, writing sample, and reviews/ratings from other attorneys on our marketplace. And we get constant feedback from customers who are blown away by the credentials and years of experience of the freelance lawyers they hire.
For example, as you can see in the screenshot below, Fabio Arcila is an incredibly talented freelance lawyer on our marketplace who primarily works as a law professor. In his extra time, he likes to take on appellate brief projects and especially complex motions and oppositions.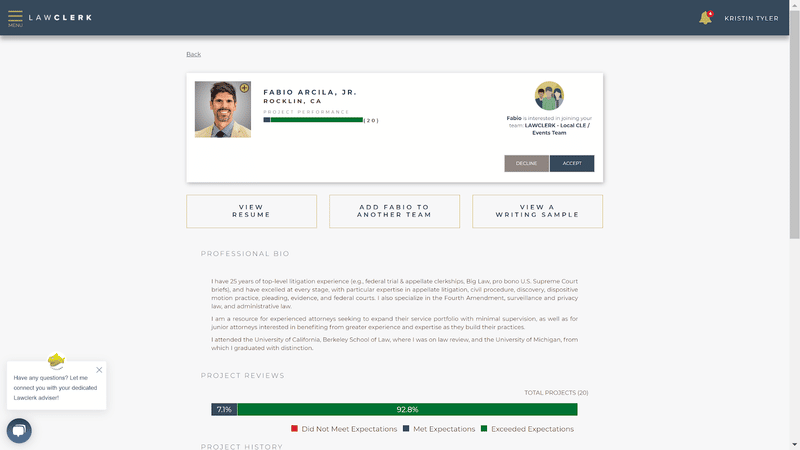 He attended the University of California, Berkeley School of Law, where he was on law review, and the University of Michigan, from which he graduated with distinction.
He has 25 years of top-level litigation experience (e.g., federal trial & appellate clerkships, Big Law, pro bono U.S. Supreme Court briefs), and has excelled at every stage, with particular expertise in appellate litigation, civil procedure, discovery, dispositive motion practice, pleading, evidence, and federal courts. He also specializes in the Fourth Amendment, surveillance and privacy law, and administrative law.
Professor Arcila is a resource for experienced attorneys seeking to expand their service portfolio with minimal supervision, as well as for junior attorneys interested in benefiting from greater experience and expertise as they build their practices.
In the video below, Professor Arcila shares his experience doing legal freelance work on LAWCLERK, and describes the most interesting Project he's taken on through our platform:
Another example of the many talented freelance lawyers on our marketplace is Dayna Maeder: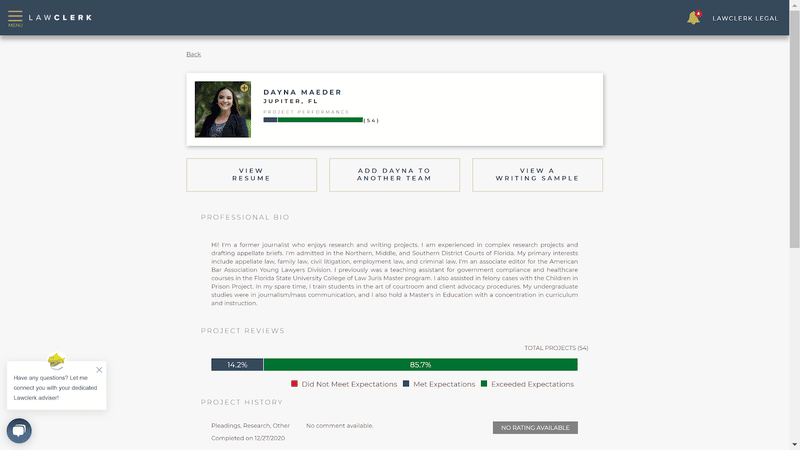 Dayna has completed a total of 54 projects, and has either met or exceeded expectations on 100% of her projects.
According to her bio, Dayna is a former journalist who enjoys research and writing projects. She is experienced in complex legal research projects and drafting appellate briefs. She's admitted in the Northern, Middle, and Southern District Courts of Florida. Her primary interests include appellate law, family law, civil litigation, employment law, and criminal law. She is an associate editor for the American Bar Association Young Lawyers Division.
She was previously a teaching assistant for government compliance and healthcare courses in the Florida State University College of Law Juris Master program. She also assisted in felony cases with the Children in Prison Project. In her spare time, she trains students in the art of courtroom and client advocacy procedures. Her undergraduate studies were in journalism/mass communication, but she also holds a Master's in Education with a concentration in curriculum and instruction.
These are just a few examples of highly skilled and experienced freelance lawyers on our marketplace. And we're proud and grateful that they're a part of our powerful freelance network.
What Types of Legal Writing Projects Can You Delegate to Freelance Lawyers?
There are three categories of writing projects you can delegate to freelance lawyers:
Litigation-Based Work
Transactional-Based Work
Other
Here, we break down each category into the specific writing tasks you can get help with.
1. Litigation-Based Work
The majority of work that we see come through our marketplace is litigation-based.
While the below list isn't exhaustive, here are a few of the more common ways that lawyers in the litigation realm get help with legal written work:
Research Projects
Research projects can range from small, less time-consuming assignments, to more complex 50-state surveys on how a legal issue is treated on a state by state basis.
If you don't have ~10 or more hours open in your schedule, it's hard to really dig into an issue the way a freelance lawyer can.
Demand Letters
Many times, that initial research Project will lend itself into the freelance lawyer crafting a demand letter to resolve the matter before litigation. Delegating a research project can segway nicely into also outsourcing the demand letter.
Initial Complaint
All too often, that demand letter is not successful. Then, you're moving into litigation, and the freelance lawyer can help with drafting the initial complaint (or, if your client has been served with the complaint, then drafting the answer).
This typically leads to discovery, which is notoriously tedious and time-consuming (and one of the most popular types of projects that gets posted on our marketplace).
Discovery
Freelance lawyers can help with a myriad of tasks when it comes to discovery. For example:
Preparing discovery requests
Forming up responses
Analyzing and organizing documents that you've received through the discovery process
Outlining a discovery strategy
And more
Motion 
Any type of motion practice can be incredibly time-consuming, and it's just another great opportunity for you to delegate that work to a talented freelance lawyer. You can get help with:
Preparing motions to suppress or compel evidence
Submitting or opposing a motion for summary judgement
And more
Trial Prep
We see so many hiring attorneys turning to freelance lawyers when it comes time to prepare for trial. The days and weeks leading up to trial fly by and there is endless work that needs to be completed to make sure you are ready for day one. Some of the projects you can delegate include:
Preparing or opposing motions in limine
Organizing documents for a trial binder
Coming up with question lists for witnesses
Reviewing deposition transcript summaries for use with impeachment testimony
Strategy for voir dire
Preparing jury instructions
Preparing a trial brief for the judge
Appellate Process
If things don't turn out the way your client had hoped, and you're entering the appellate process, our freelance lawyers can help.
We see all levels of appellate work go through our marketplace, all the way up from research and briefing for various district courts to the US Supreme Court.
2. Transactional-Based Work 
Litigators aren't the only ones who get to take advantage of the incredibly talented freelance lawyers on our marketplace.
We see a growing amount of transactional work come through the site, some of which includes:
Researching unique issues that come up for clients
Correspondence
Agreements
Contracts
Leases
Deeds
And more
3. Other
There are many other time-consuming, legal writing projects that busy attorneys delegate. We'll list just a few of them in this section.
Blog Posts  
You can hire freelance lawyers on our marketplace to write blog posts for your website or newsletter. This is a great way to get blog articles about timely topics and boost your SEO to attract new clients.
CLE Presentation 
Time and again, we hear from lawyers who volunteer (or get volunteered) to present a Continuing Legal Education course. But they struggle to find ~25 hours in their schedule to put the written materials together and prepare the PowerPoint.
If you don't have an associate attorney to delegate that to, or if that associate attorney is too busy, this is a great point in time to hire a freelance lawyer. They can help you prepare for what you need in a professional manner.
Journal Articles
We also see attorneys turn to our freelancers to get help with writing articles for local bar journals and other trade publications.
Of course, the hiring attorney can still edit and put their own personal touch on an article before it's submitted to the publication.
Administrative Work 
We're seeing a growing number of attorneys use freelance legal writers to get help with administrative work within their own law firm. That includes:
Revamping the intake questionnaire for client meetings
Coming up with enhanced engagement agreements for working with clients
Preparing employee handbooks with rules that employees need to follow when working from home
Reviewing and updating commonly used forms
Drafting website content for new practice areas or revising existing website content
And so on
Interested in Learning More About How to Effectively Outsource Legal Work?
We put a lot of time and effort into creating a useful Attorney Resources page (see here), where you can find documents such as:
Note: At LAWCLERK, we help match up busy attorneys (primarily solos and smaller firms) with our nationwide network of freelance lawyers, who have experience in all areas of law. There are no signup fees or monthly fees, and you only pay when you're actually hiring someone to help you with work. It's a flexible, affordable way to get the help you need, when you need it. Learn more and sign up here.  
You May Also Like…