There are many obvious, common questions that attorneys think about when starting a virtual law firm. For example, how does running a virtual law firm impact getting clients? Is there an adequate home office setup to be productive? Are ethical considerations being met?
Again, these are the obvious questions that get discussed most frequently. And there are many articles on those topics online.
But there is not enough information on how to effectively staff virtual law firms, despite it being the key factor to a profitable business model. 
Specifically, many attorneys we speak to delay hiring an associate because it would run up their overhead and monthly expenses (i.e. salary, benefits, and so on). This is a valid concern as maintaining low overhead is a primary goal for many virtual firms.
For example, say you hire an associate who has $70,000 worth of fixed, yearly overhead costs tied to them. In the first few months, your firm is extremely busy, and that associate is projected to generate well over $100,000 of billable time (which covers the $70,000 fixed overhead, and adds $30,000+ in revenue to your firm).
But then work gets slow, and the projection doesn't end up coming true. The associate generates $50,000 of billable time at the end of the year, but they have a fixed overhead cost of $70,000. In this case, your law firm would lose $20,000.
We've spoken to many lawyers who actually pay their associates more than they pay themselves. Eventually, those lawyers take a traditional office job, and abandon their dream of running a profitable virtual law firm.
Fortunately, there is a new and better way to solve this problem that didn't exist a few years ago: LAWCLERK.
We built LAWCLERK, a marketplace for hiring freelance lawyers via a flat fee on a project-by-project basis — meaning you only pay them when you need help, and they're actually doing work.
So if your firm slows down, which naturally happens from time to time, the marketplace is still a great way for you to get help on a per-Project basis because fixed overhead costs that lower your firm's profitability aren't a concern anymore (unlike full-time associates).
While there's a common misconception that lawyers who freelance couldn't get a "real" job, this couldn't be further from reality. Talented freelance lawyers come from many backgrounds.
After working and meeting with thousands of freelance lawyers over the last few years, we find that they are very intentionally choosing not to take the traditional law firm job. It often comes with very long hours and a poor work-life well-being, and they want other things in life.
The reasons for flexibility vary: from the freedom to travel, spend more time with family, take care of elderly parents, raise children; there's even law professors who want to do freelance work in the summers when they don't have classes.
Lawyers who choose to freelance are just as qualified and experienced as lawyers who embark on the so-called "traditional" career path.
Collaborating with freelance lawyers is one of the "secret" weapons of running a profitable virtual firm.
Best of all, freelance lawyers supply their expertise only when you need it, which reduces overhead costs like full-time salaries and benefits. This is a much more cost-effective, flexible, and less intimidating staffing strategy than making a full-time hire.
In this post, we'll expand on the downsides/pitfalls of hiring a traditional full-time associate and why small virtual law firms should consider delegating work to freelancer lawyers instead.
Pitfall #1: Limited Talent Pool 
Most law firm owners only consider hiring local talent, but they could be casting a much wider net.
For example, LAWCLERK has a nationwide network of over 4,000 freelance lawyers. These are deeply experienced attorneys who graduated from ABA-accredited law schools and who have worked their own cases and managed their own clients for years. Now, for a variety of reasons, they have turned to freelancing for their legal career.
LAWCLERK provides all the information you need to evaluate freelancers from all over the United States. We make it easy for you to review resumes, writing samples, total projects completed, and other hiring attorneys' reviews of past performance.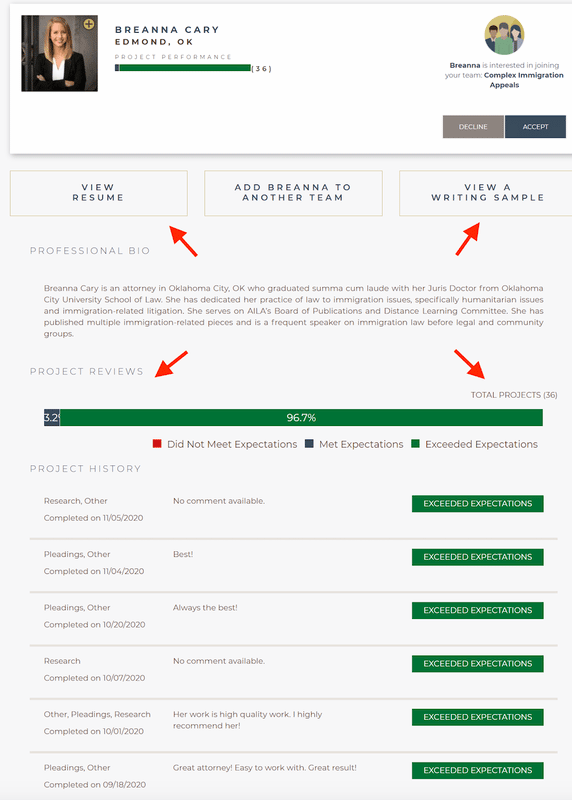 Pitfall #2: Turnover
Many traditional law firm owners spend months or even years training junior associates, who eventually leave to join a different firm or even start their own competing firm.
With the average freelance lawyer on LAWCLERK having 11.6 years of experience, you'll get the expertise and high-quality work you need right away. There's no need to train the freelancers, and no need to worry about turnover.
Pitfall #3: Limited Skillsets = Limited Practice
A traditional law firm's capacity is limited by the skillsets of partners and associates. By working with virtual associates, you can tap into a deeper pool of expertise whenever you need to.
For instance, one of our customers runs a solo virtual practice in a small community. In any given week, she could be dealing with family law, real estate, bankruptcy, and criminal issues. It would be difficult, if not impossible, for her to find a junior attorney in her local community whom she could hire as an associate that would have the capability to work in all of these different practice areas.
What she's done instead is use the LAWCLERK "Teams" feature to find different freelance lawyers who have expertise in each of these practice areas and build teams of highly qualified virtual associates.
Now, when she has a new case, whether it's anything from an uncontested divorce to a criminal trial, she can send the case to a freelancer on the appropriate team who has deep expertise and can start drafting documents with very little instruction from her.
Here's another example that illustrates the expertise that freelance lawyers can supply your law firm:
A couple of years ago, one of our clients, a nationally renowned expert with 40 years of experience in criminal defense and First Amendment law, needed help with a portion of a writ that his in-house team was preparing for the U.S. Supreme Court.
Specifically, the team needed help with one section that covered the principle of stare decisis, and they reached out to us for help. We connected them with an attorney who had deep expertise on the topic, and they agreed to work together.
Over the course of a weekend, the freelance attorney dug into the case and presented the in-house team with different strategies that, even with their deep knowledge, they hadn't considered. The virtual associate "hit it out of the park," in the client's words, and enabled the firm to make a much stronger case.
How to Find Flexible Staffing for Your Virtual Law Firm
When you're ready to try working with a freelance lawyer, LAWCLERK makes it easy to get started. We provide the tools you need to scale your firm and grow your virtual practice.
Want to try a single Project and see how it goes?
It's easy to get started. Create an account and post your first Project!
Want to build a Team of trusted freelancers you can turn to again and again?
Earlier we mentioned LAWCLERK's "Teams" feature, which is geared to help make project-based work more efficient. To get started, click "Build a New Team" on your dashboard, or watch this explainer for more information about how to set up and use Teams.
Want more help on a regular basis?
We also offer a Virtual Associate Subscription Program for attorneys who want to integrate freelance lawyers (aka virtual associates) into their virtual law office on a regular basis and over a longer period of time.
See this article where we cover:
What are the Subscription Program's benefits? 
Who is it for? 
How does it work?
What does it cost?
And so on.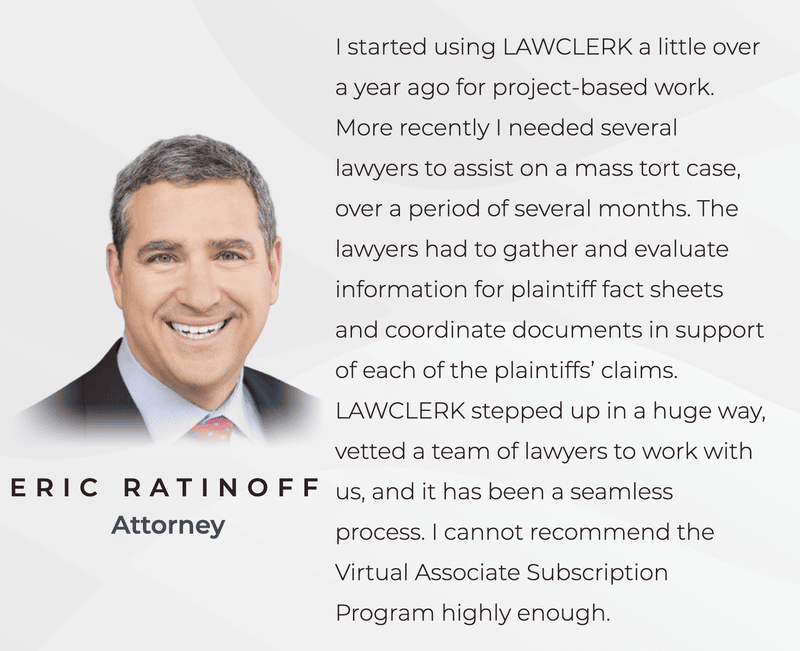 Ready to Learn More About Building a Virtual Law Firm?
Our Attorney Resources page offers documents like:
Join today or book a demo to increase your firm's profitability and get the help you need, when you need it, without the overhead tied to full-time associates.