LAWCLERK is excited to announce: 
Build a Team
"We are constantly seeking feedback from our users to guide us in our development and mission to improve attorneys' practices, profit margins, and lives.  Our most frequent users have been asking us for the ability to cultivate and work exclusively with their own team of freelance lawyers.  We are excited to announce that with our new Build a Team feature, attorneys can do just that!" 
– Talitha Gray Kozlowski, Co-Founder and COO
New Features Summary
Build a Team: The beauty of Build a Team is that it allows attorneys to create their own Team of freelance lawyers (aka Lawclerks) to work with on a regular basis, without the overhead expense of full-time employees. By building their Team, attorneys can have all of the upside of a team of associates without the overhead.
Send a Note: With Send a Note, freelance lawyers can now highlight their qualifications and project-specific experience when applying for projects, in addition to providing their resumes, writing samples, and reviews.
Build Your Team of Freelance Lawyers
To add freelance lawyers from prior projects completed with LAWCLERK, the attorney simply needs to click on the picture of the freelance attorney that appears in the right-hand corner of the prior project's folder and then click on "view full profile in a new window."  When the profile opens, there is a large button in the middle of the screen that will add the freelance lawyer to the attorney's Team.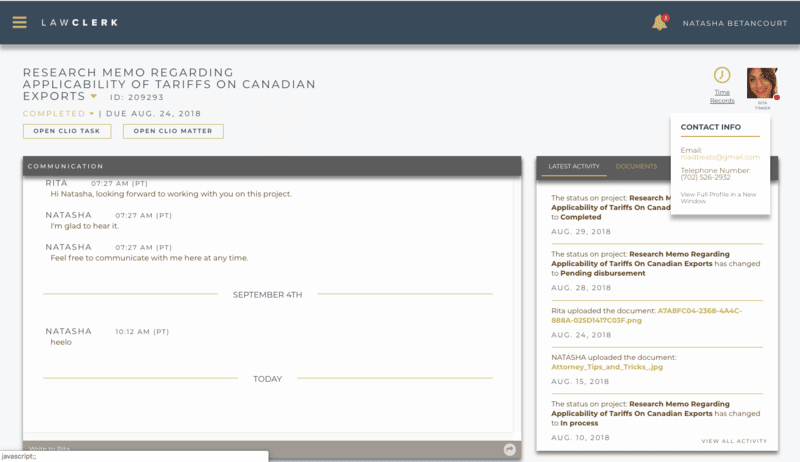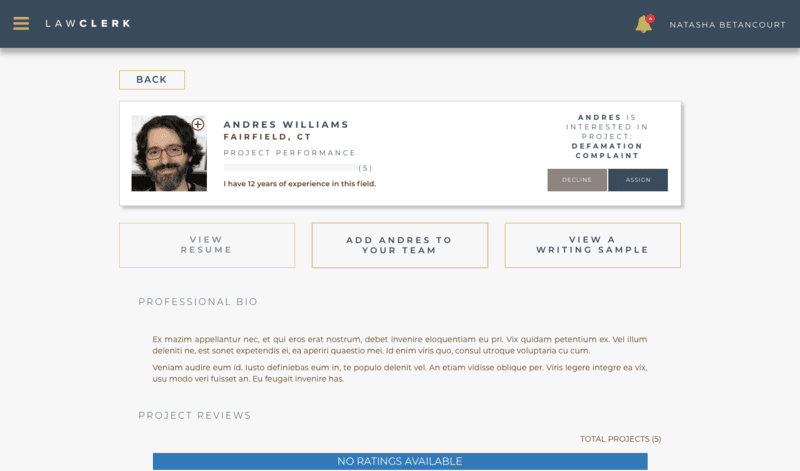 Not only can attorneys add their favorite freelance lawyers from prior projects, but when they receive a stellar resume from a freelancer that may be right for a future project, they can add that freelancer to their Team by clicking on the plus sign that appears on the applicant's picture.
Attorneys can then easily view and manage their Team by clicking on "My Team" in the menu.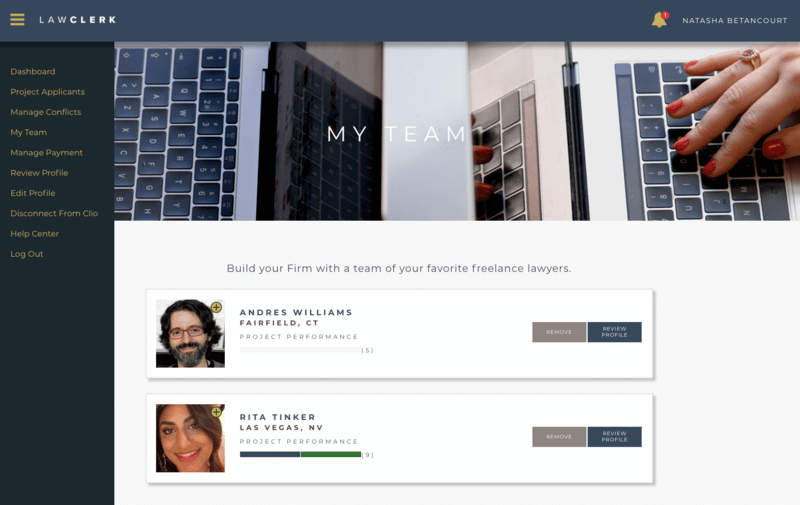 Once the attorney builds their Team, the attorney will have the option to post a new project to the entire LAWCLERK marketplace or to invite one of their Team members to complete the project.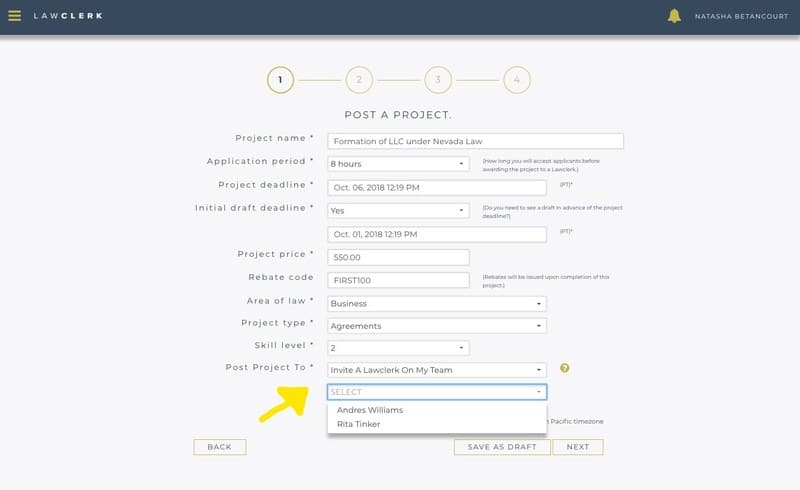 When a project is sent to a Team member, the attorney and the Team member can easily chat about the project.  And, the attorney can always edit the project or reassign it to another Team member or post it to the LAWCLERK Marketplace for other freelance lawyers to apply.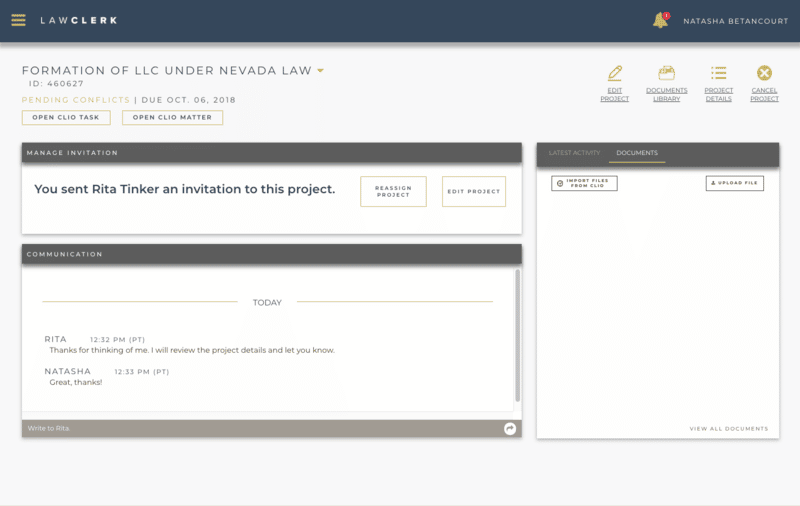 When a freelance lawyer on the attorney's Team is invited to a specific project, the freelance lawyer will receive a notification that they have been invited to a project.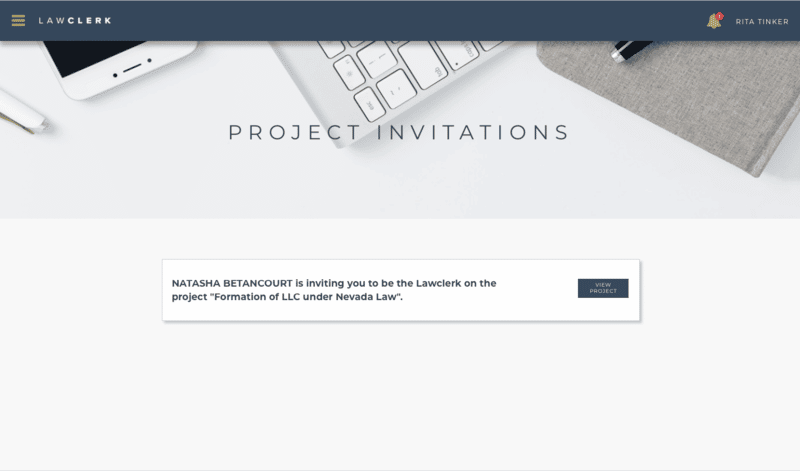 The freelance lawyer can then accept the invitation and complete the project, communicate with the attorney about the project, or decline the invitation, in which case the attorney will be prompted to invite an alternate Team member or to post the project to the LAWCLERK Marketplace.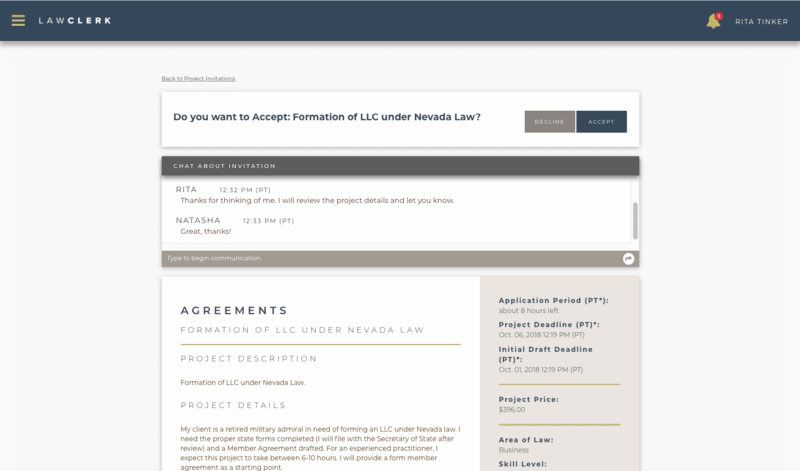 Build a Team streamlines the process of hiring freelance lawyers by saving the attorney time reviewing credentials and making it easier to repeatedly work with a single or small group of freelancers on a single case or type of cases.
Here is what one of our attorneys had to say after test-driving the new Build a Team feature:
"With Build a Team, I have all the upside of a team of associates without any of the downside or overhead," said attorney Anne Loraditch.  "I have built my 'A-Team' and can now seamlessly have one or two lawyers on my team handle all of the work I need done on a single case or type of cases.  The efficiencies and time savings are fantastic."
Send a Note
In addition to Build a Team, we have deployed our Send a Note feature.  With Send a Note, freelance lawyers applying for projects can (but are not required to) add a brief note explaining why they are qualified for the project.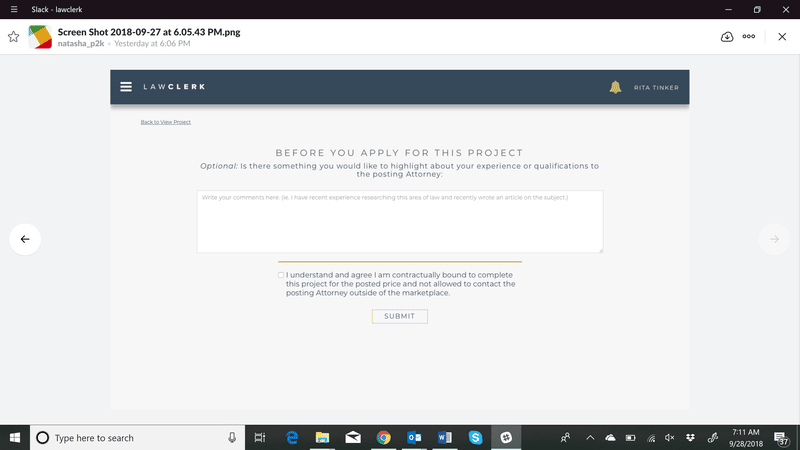 In addition to the freelance attorney's resume, writing sample, ratings, and comments from prior projects, the Send a Note feature will be yet another data point to help hiring attorneys select the best freelance lawyer for their project.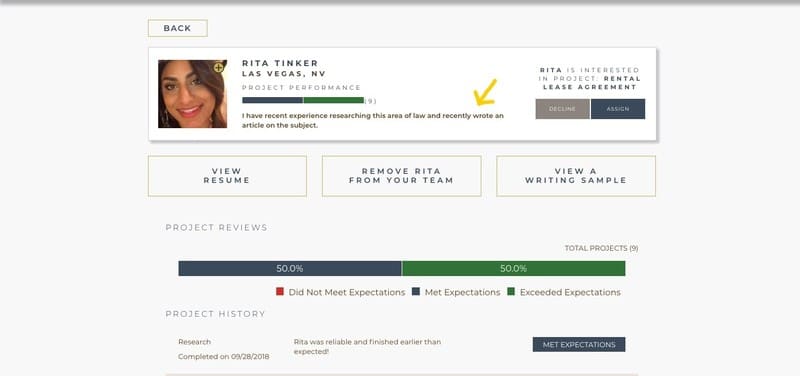 As always, the LAWCLERK Care Team is here to help!  Please reach out to us at support@lawclerk.legal or call 888-479-5738 if you have any questions about these new features or need help posting a project!