Many busy attorneys turn to legal staffing agencies for short-term or permanent legal help. But there are overlooked (and significant) drawbacks to this approach:
Limited availability of talented lawyers with the appropriate niche expertise. 
Slow turnaround time.
In this article, we'll explain how each of those drawbacks can hamper getting the best help for your practice, as well as how we designed LAWCLERK (a freelance lawyer marketplace) to solve these problems.
Note: With LAWCLERK, you can post a project, set a flat fee, field applications from well-qualified freelance lawyers, review their credentials, and select the best possible candidate — quickly, and with assistance if you need it. You can even sign up to have regularly recurring help from one of our freelancers on a subscription basis. Learn more here.
Drawback #1: Limited Availability of Talented Lawyers with the Appropriate Niche Expertise
We talk to many attorneys who worry they may be unable to find freelance lawyers with the niche expertise they're looking for.
For instance, one of our clients has a specialized practice that deals with energy, natural resources, and business litigation, all of which are niche and complex areas of law. This lawyer was having difficulty finding freelance lawyers who had the expertise she needed, since she works primarily in Colorado and Wyoming — areas of the country where energy-specific contract lawyers do not reside en masse. This was a significant issue, since she often had more work than she could handle and needed additional help to complete it all.
To our client's relief, when she used LAWCLERK to post her first energy law-related Project, over 10 freelance lawyers applied, all of whom had the appropriate niche expertise. She went from not easily finding anyone to finding somany applicants that she needed to narrow down multiple candidates with relevant experience to just one.
This example isn't an isolated case. On average, 12 candidates apply to each Project on LAWCLERK. We have a network of 3,700 freelance lawyers (and growing), which is the largest in the legal industry.
Naturally, with a talent pool of this size, there are freelance lawyers with nearly every type of specialization. They can help you solve complex and unique issues, but also more simple ones, as we discuss in our post on, What Kind of Legal Work Can You Outsource?
If you contrast this with the majority of legal staffing agencies, they have a finite number of candidates with less diversity in experience and practice area. So if you need help in a specific, niche area, you simply may be unable to find what you need. Even if you are matched with a freelance attorney who actually has the expertise you need, they may be the only person who matches your query, leaving you no choice but to utilize their services.
How to Select the Best Possible Applicant
Staffing companies often select the candidates they think best match what a firm is seeking. However, our marketplace allows you to directly review the profiles (see example below) of those who have applied for your Project, and pick the best applicant for the work based on their:
Resume or Bio
Writing Sample
Reviews and Ratings (Left by Attorneys Who Have Worked with Them Already)
If you like to be in control of who is helping work on your cases, our marketplace may be a better solution for you.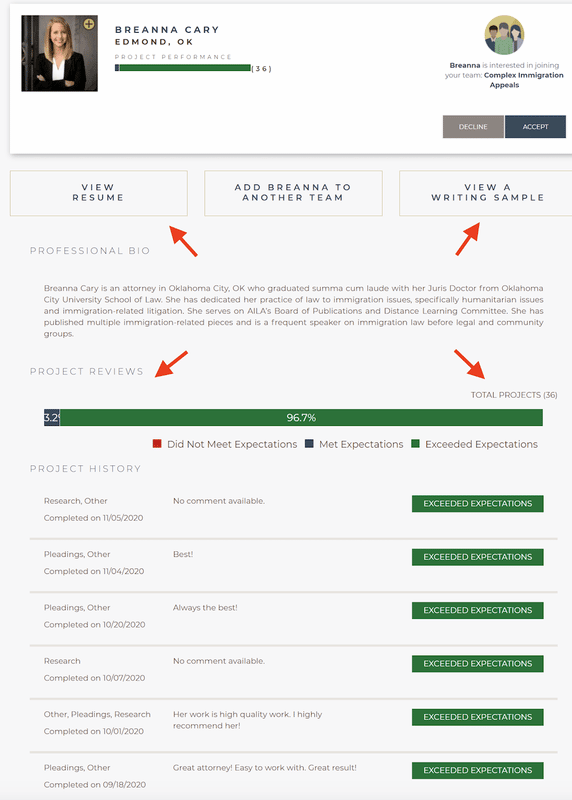 Drawback #2: Slow Turnaround Time
Because of the demanding nature of the legal profession, hiring attorneys often find themselves in a time crunch to find the assistance of a freelance lawyer.
For example, on the day before a trial or court appearance, many action-items can arise unexpectedly. You may need a few deposition transcripts reviewed and summarized, oppositions to motions in limine written, etc., and having someone to do those for you could be enormously helpful as you focus on other larger issues for the case (i.e. opening argument, having evidence ready, and so on).
When you post a Project on LAWCLERK, our freelance lawyers get an instant email notification if it matches their criteria/skillset. Because of that, you will likely get multiple applications in under an hour, and they can help you right away with time-sensitive tasks.
In contrast, what takes around an hour on LAWCLERK can take days with legal staffing services, based on what we've heard from our customers who have been through that process in the past.
Virtual Associate Subscription Program
If you find yourself wanting more regular help than just posting projects as they pop up, LAWCLERK also offers a Virtual Associate Subscription Program.
This program can be used to work with the same associate month after month, more fully integrating them into your firm and allowing them to learn your style.
First, choose the level of attorney you want to hire:
Junior level attorney with 1-4 years' experience = $75 per hour.
Experienced attorney with 5+ years' experience = $100 per hour.
Senior attorney with the highest level of experience and expertise = $140 per hour.
Then, decide how many hours per month you'd like to contract them for, from 10 to 160 hours per month, in increments of 10.
Hours can be set each month in case work ebbs and flows, and there's no long-term commitment — the subscription is cancellable upon 30 days' notice.
Note: See the following article for more details on working with a virtual associate on a subscription basis: How the LAWCLERK Virtual Associate Subscription Program Works
Sign Up for a LAWCLERK Demo
To learn more about how our freelance lawyer marketplace works, visit our site and sign up for a demo.
For general information on how to effectively delegate legal work, visit our Attorney Resources page, where you can find:
Legal Outsourcing Whitepaper
Delegation Worksheet
Sample Projects by Area of Law
Podcast
Video Webinars and Tutorials
And More!