Every single week, we see many attorneys turning to our network of freelance lawyers for time-consuming research projects.
The fact of the matter is that most lawyers get to a point in their careers where it's hard for them to find enough hours in their day to dig into certain issues that need to be fully researched.
And when you reach that point in your career, the best thing to do is to delegate that work.
The problem is finding someone who's incredibly savvy with the skills and experience to get the work done, but at a rate you can afford to still maintain and grow profitability.
That's where we come in.
In this post, we'll cover:
How you can use LAWCLERK, our freelance lawyer marketplace, to find the best possible talent for your legal research needs.
Real examples of legal research projects that attorneys posted on our marketplace, including the project description, price they paid, and comment/rating they left for the freelance lawyer (so you can see what kind of work you yourself might be able to get help with by using our platform). 
Note: Interested in signing up for LAWCLERK and posting your first Project? We match busy attorneys with our nationwide network of freelance lawyers, who have experience in all areas of law. There are no signup fees or monthly fees, and you only pay when you're actually hiring someone to help you with work — making it a flexible, affordable way to get the help you need, when you need it. Learn more and sign up here.
How You Can Use Our Freelance Lawyer Marketplace to Find the Talent You Need
Here's how to post your first Project on our marketplace, step by step:
Once you're logged in and see your dashboard, click on the plus sign icon (+) for "Post a New Project or Build a New Team," then on the pop-up, "Create a New Project."
Step 1: Set the Project's parameters, including:
The Project name.
The length of time you'd like to accept applications.
The Project's deadline.
The deadline date for the review draft (if applicable).
The flat fee price you're offering.
Which area(s) of law the Project falls under.
Which Project type(s) the Project falls under.
The skill level you'd like applicants to be.
Whether you'd like to post the Project to the entire marketplace, or if you'd like to take advantage of our Teams feature and post it directly to a freelance lawyer on your team.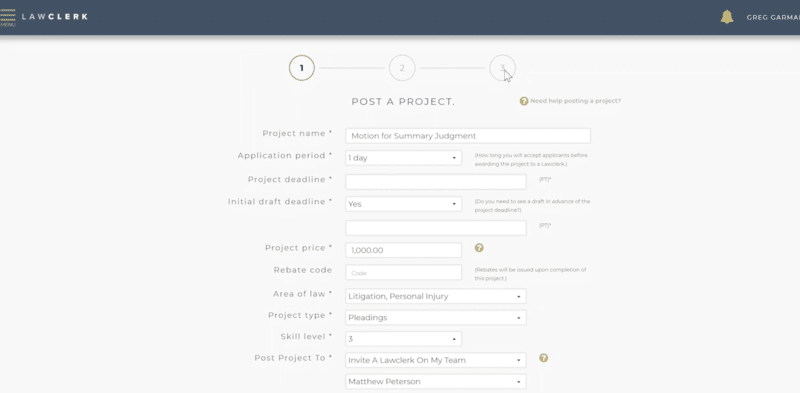 Step 2: Give more information about the Project, including:
The Project's description (sample language is provided, to give you an idea of how to write it if you're unsure or have never posted before).
Details about the Project (also with sample language).
Selecting whether it's applicable to a state, federal, or other legal jurisdiction.
Note: As soon as you sign up for your account, you're going to be matched up with one of our Dedicated LAWCLERK advisors. They can help you with any questions related to posting your Project, such as the price you should set, best practices when drafting your Project description, and so on.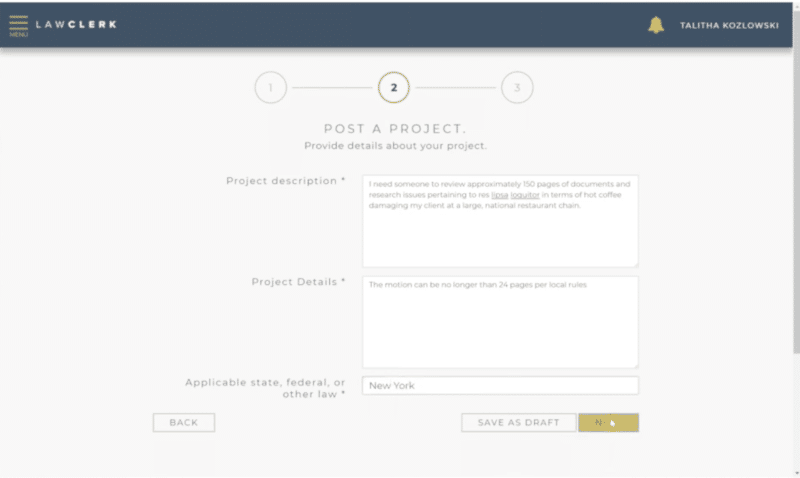 That's all there is to it!
Once your Project is set up and applications roll in, you can select the applicant that best suits your needs and let them handle the work for you.
Each applicant profile includes a bio, resume, writing samples, and reviews/ratings they've received from other attorneys on our marketplace (so you can make an informed decision to select the most qualified applicant).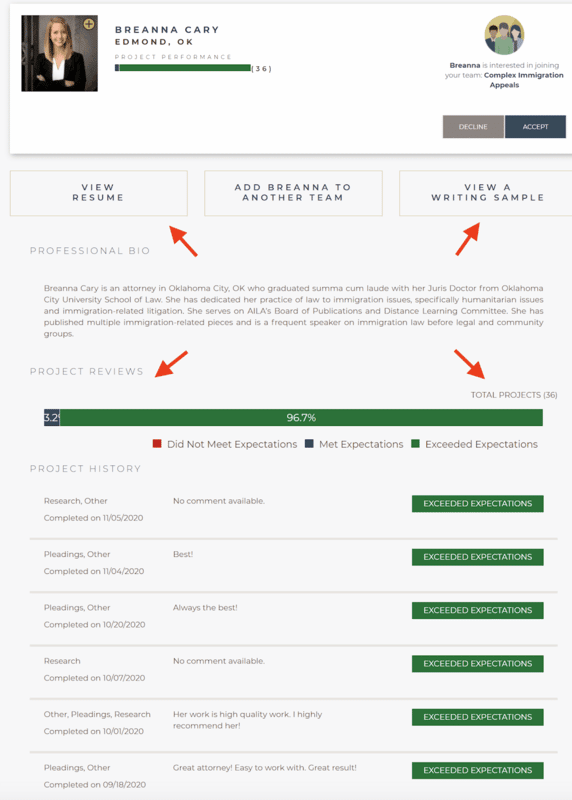 There's no locked-in cost for doing business beyond the cost of the Project(unless you prefer a subscription — more on that below). 
Rather than spending the time and money to find, train, outfit, and maintain a full-time associate or even part-time paralegal, LAWCLERK allows you to simply post the Project you want done, choose the applicant who meets the need you have right now, and get the work done with no major investment or commitment on your part. Which all leads to significantcost savings.
Want Consistency? Try Our Virtual Associate Subscription Program
If you want to lock in how much help you get each month at an easy-to-budget price, you can sign up for our Virtual Associate Subscription Program.
After we launched LAWCLERK, many of our users were thrilled with the service — but we had some customers ask for a way to further integrate freelance lawyers into their law firm, for a significant number of monthly hours (rather than on a per-Project basis).
Our subscription service was born from this need. Here's how it works:
Hiring law firms and attorneys, such as yourself, can select the expertise level of the freelancer and the amount of hours you'd like to use them for each month.
You set how many hours you'll need help per month in increments of 10 hours — from 10 hours up to 120 hours per month.
You get assistance from your Dedicated LAWCLERK Advisor to determine those variables.
We handle the timekeeping, bookkeeping, and even tax reporting.
There's no long-term commitment, as the contract is month to month with only 30 days cancelation.
You now know exactly how much help you can count on from your freelancer(s) each month.
Note: For more information about our Virtual Associate Subscription Program, click here.
Example Freelance Lawyer: Dayna Maeder
Here's an example of one of the many talented freelance lawyers on LAWCLERK who excels at legal research: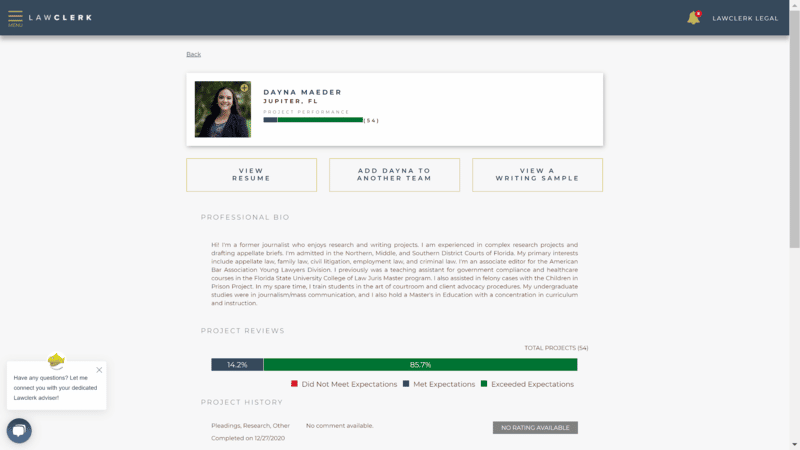 And here are some highlights about Dayna:
She has completed over 60 projects on LAWCLERK, either meeting or exceeding expectations on 100% of them.
She's a former journalist (her undergraduate studies were in journalism/mass communication), and she's experienced in complex legal research projects and drafting appellate briefs. She enjoys research and writing projects.
She's admitted in the Northern, Middle, and Southern District Courts of Florida, with primary interests in appellate law, family law, civil litigation, employment law, and criminal law.
In the past, she was a teaching assistant for government compliance and healthcare courses in the Florida State University College of Law Juris Master program, and she assisted in felony cases with the Children in Prison Project.
She also holds a Master's in Education with a concentration in curriculum and instruction, and in her spare time, she trains students in the art of courtroom and client advocacy procedures. She's also an associate editor for the American Bar Association Young Lawyers Division.
Note: Dayna Maeder is just one of the more than 3,500 lawyers in the LAWCLERK network. When you post a Project, on average, 12 candidates apply, and hiring attorneys are often incredibly surprised by their talent level, credentials, and years of experience.
Examples of Legal Research Projects by Practice Area
For examples of the kinds of research projects the freelance lawyers on LAWCLERK can do for you, below you can find multiple samples of work that have actually been done via our platform, categorized by the following areas of law:
Appellate
Bankruptcy
Business, Corporate, and Real Estate
Criminal
Employment, Labor, and Education
Entertainment and Sports
Estate Planning, Wills, Trusts, and Probate
Immigration
Intellectual Property
Litigation
Non-Profit
Personal Injury
Tax
We include the Project Description and Project Details as listed on LAWCLERK, as well as the hiring attorney's comments about how well the Project was completed by the freelance attorney.
Note: This is just the tip of the iceberg. The following were taken from the "Sample Projects by Area of Law" section on our Attorney Resources page. For more examples of projects that you can delegate to freelance lawyers, such as document drafting, discovery, and more, click here.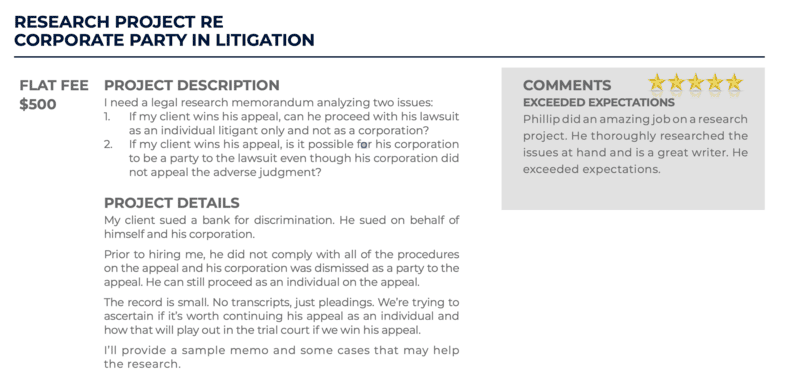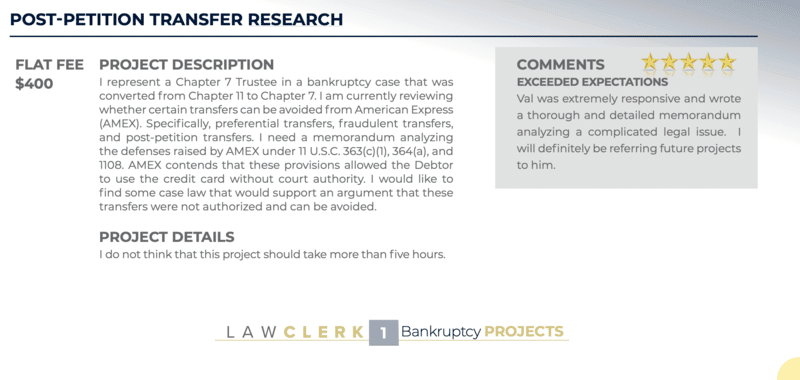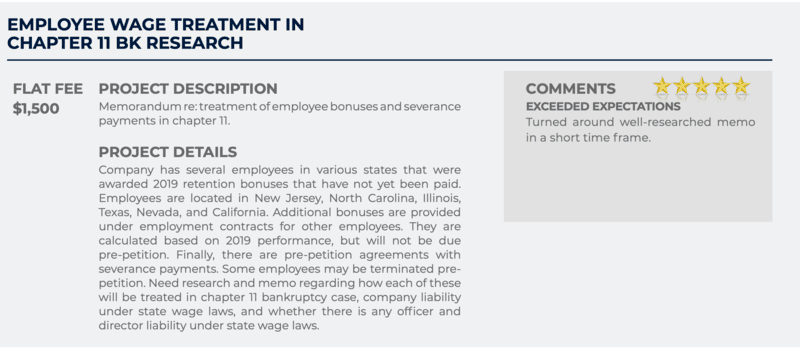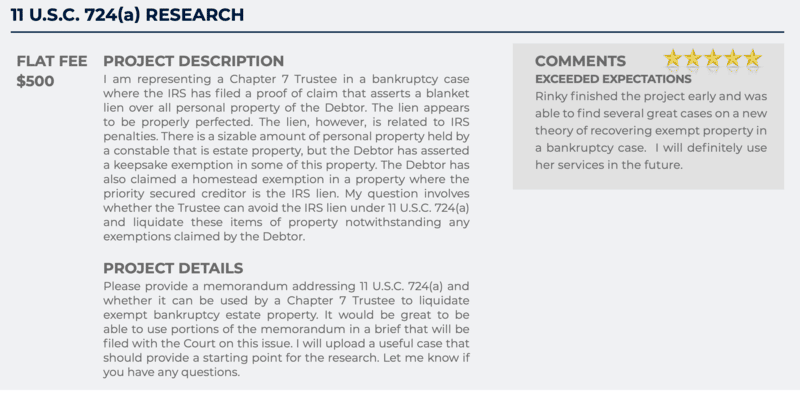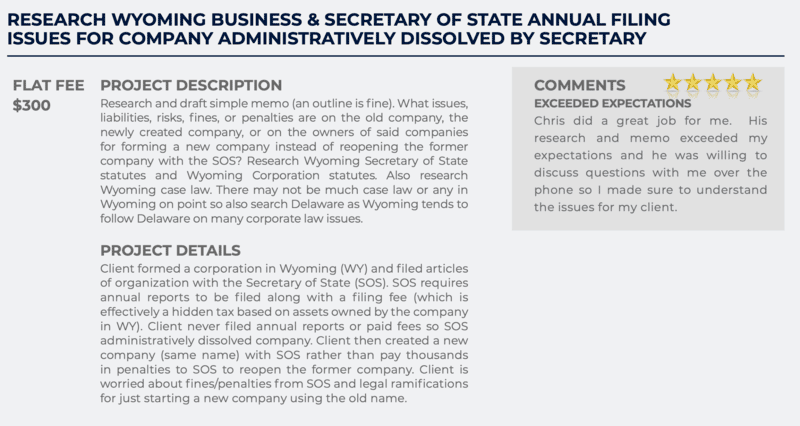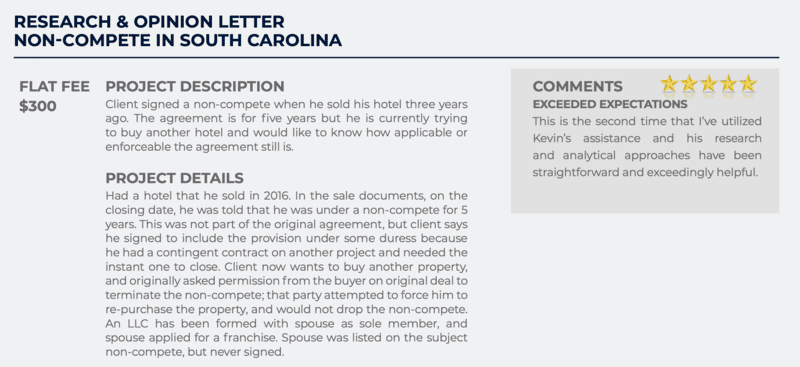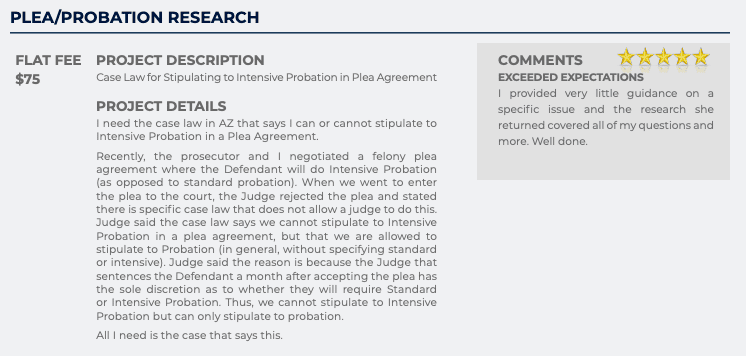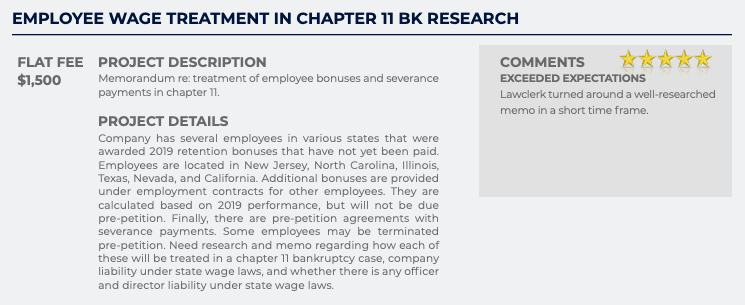 Estate Planning, Wills, Trusts, and Probate (see more examples)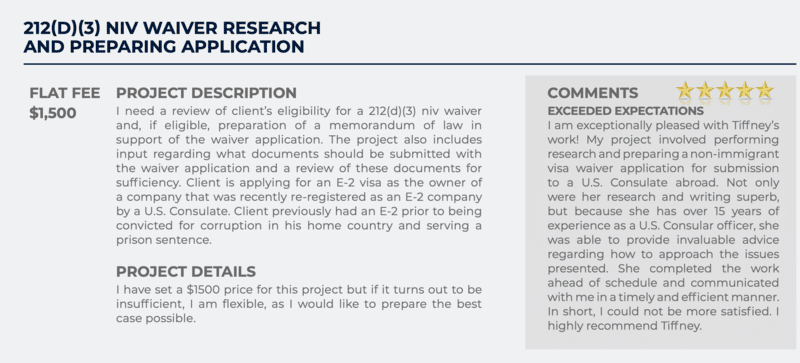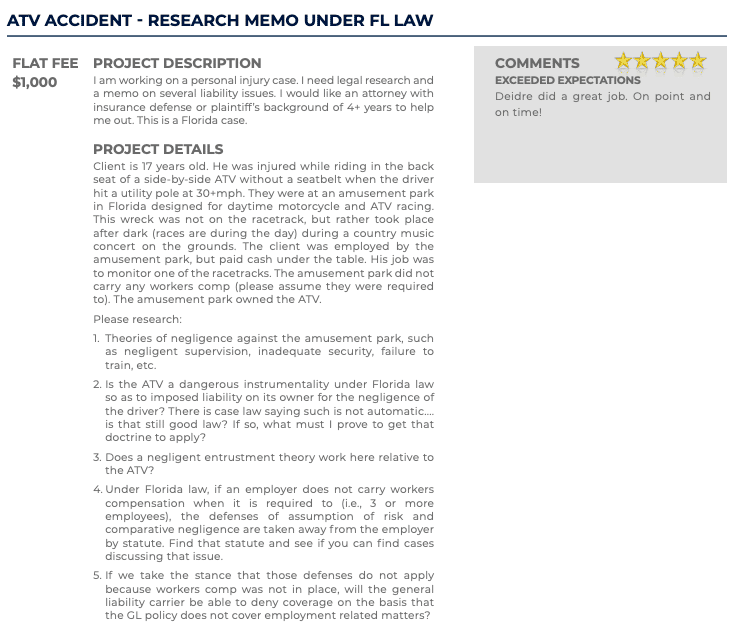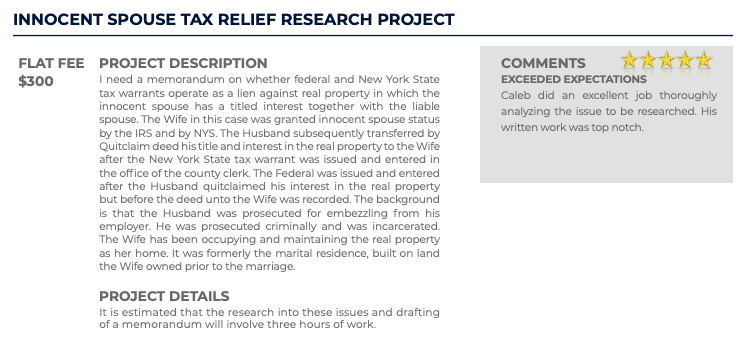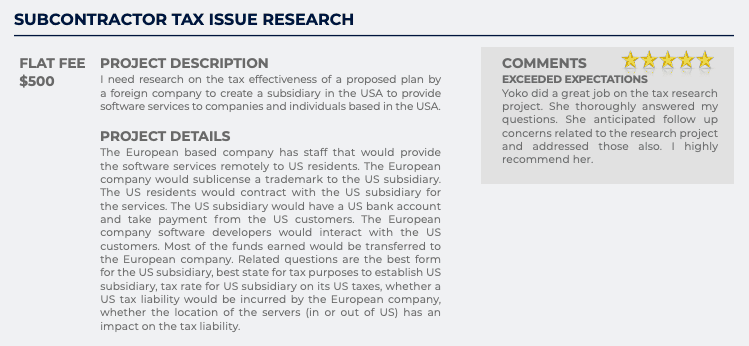 Interested in Signing Up for LAWCLERK and Posting Your First Project?
We match busy solo attorneys and small firms with our nationwide network of freelance lawyers, who have experience in all areas of law.
There are no sign-up fees or monthly fees, and you only pay when you're actually hiring someone to help you with work — making it a flexible, affordable way to get the help you need, when you need it. Learn more and sign up here.