After considering the benefits of hiring a freelance lawyer and deciding to hire one, the next step is drawing up a formal written agreement.
Here's an agreement that's available as a PDF for you to download and customize, but be sure to keep reading — we have an even faster and more secure way for you to enter into an agreement with a freelance attorney below.
PDF: Sample Freelance Attorney Agreement

Disclaimer: This is a link to an online resource that we did not create and it may or may not fit your unique needs. It's intended to serve as a template but it does not constitute legal advice. 
At LAWCLERK (an online marketplace where attorneys go to hire virtual freelance lawyers), we build a complete and legally binding agreement into every Project. It's automatically provided when you hire a freelancer, and we'll explain it more below.
First, though, it's important to understand that a formal legal agreement is only one piece of the puzzle when it comes to hiring and working with a freelance lawyer.
As you consider hiring extra help for your law firm, you should also be concerned about these issues:
Doing your due diligence to make sure you're hiring the best freelancer for the job.
Managing proper supervision of the freelancer to make sure the scope of their work keeps you ethically compliant.
Ensuring that the correct tax notices for payment are sent to your freelancers, and that they are paid in full for the work they do.
If you're like most solo and small-firm attorneys, you might be intimidated by all this: it's yet another headache on the list of tasks you already need to deal with everyday, and it's one more thing that could take you away from higher-level work.
But when you hire freelance lawyers through LAWCLERK — an established system that was custom built to help law firms delegate legal work — all these administrative tasks are handled for you.
The written freelance attorney agreement is a part of that, and the LAWCLERK system also handles bookkeeping tasks like payment processing and tax notices.
In addition, we offer access to a nationwide network of more than 3,600 highly qualified freelance lawyers, and on average 12 candidates apply to each Project that's posted (increasing your chances of hiring the best possible freelance lawyer for the job).
Below, we'll discuss how to post your first Project with LAWCLERK, connect with talented freelance lawyers, and outsource tasks without getting bogged down in the details surrounding a freelance work agreement, tax notices, payment processing, and so on.
Note: LAWCLERK helps connect busy attorneys with our nationwide network of more than 3,600 freelance lawyers. Our freelancers can help your firm on a per-Project basis at the flat fee that you set, or you can work with a dedicated virtual associate on an ongoing basis via our Virtual Associate Subscription Program. Learn more and sign up here.
How to Post Your First Project on LAWCLERK
To show you how easy it is to get started on LAWCLERK, we'll walk you through setting up your first Project and choosing the best freelance lawyer from all the applications that will roll in.
First, you'll need to take a few minutes to register as a hiring attorney and then complete the steps below.
Name the Project, Set a Deadline, and Set a Price
Give your Project a name that will remind you what it's about. The name might not seem too important when you're just starting out with us, but if you're like many of our clients, you'll soon have lots of different Projects and you'll want to be sure you can easily tell them apart.
Note: Do NOT include any confidential information in the Project name or details because that will be visible to all our registered freelance lawyers when you post it.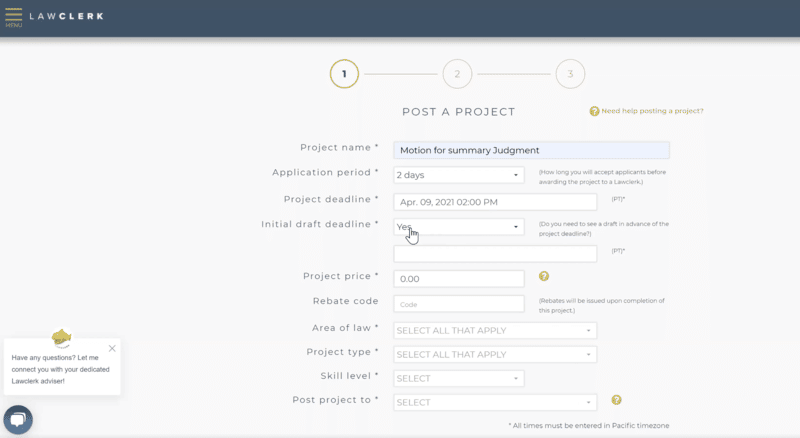 Next, set your application period and project deadline. These fields specify how long you will accept applications and the deadline by which the freelance lawyer must complete and submit the final work to you.
Because working with a freelance lawyer is similar to working with an in-person associate or paralegal, we strongly recommend that you always specify a deadline for an initial draft to give you time to review the freelancer's first draft and also to allow time for the freelancer to make revisions.
To do this, check "Yes" in the "initial draft deadline" box and set a due date and time for the first draft.
Then you'll enter the project price.
This is the flat fee that you agree to pay for a freelance lawyer to complete your Project. We know that pricing can be difficult, especially at first, so that's why your Dedicated Advisor is always here to help.
We also created a video with more info on how to price your Project:
Select Areas / Legal Specialties That Apply to Your Project
All freelance lawyers who register with LAWCLERK certify that they have a legal degree from an ABA-accredited law school and hold applicable state licenses to practice law.
And because thousands of licensed attorneys are in our network, you'll need to provide more detailed information about your needs to help narrow down the field. Be as specific as possible when indicating the type of work that you need to have performed, the skill level required, and the scope of work.
You can select more than one area of law (if applicable) and more than one Project type, and we encourage you to select multiple areas when appropriate.
That's because our freelance lawyers can choose to be alerted when projects are posted in their specialty areas, so indicating all applicable areas of law helps get the attention of your best potential matches.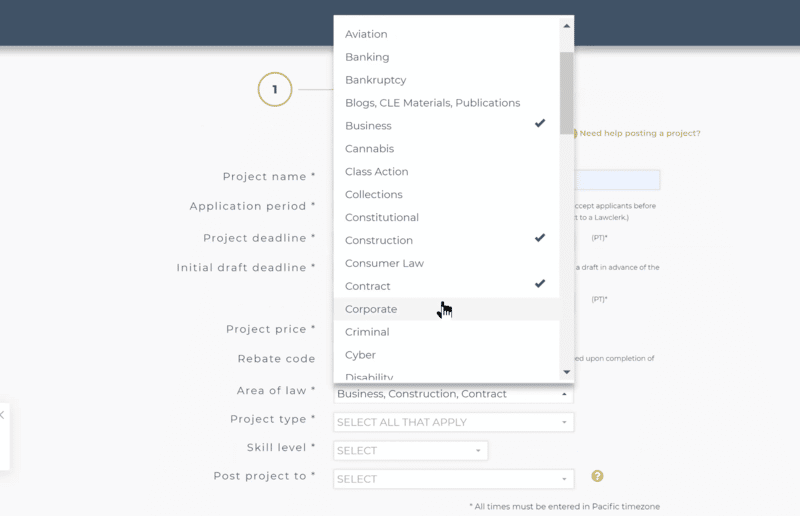 Thoroughly Describe Your Project
The next screen will prompt you to describe your Project. Providing detailed information will allow prospective freelance lawyers to determine whether they have the skills required to complete your Project and the desire to provide their legal services in exchange for your posted fee. ‍
To help potential applicants estimate the time needed to finish your Project, please include the expected length of the document you are asking them to prepare, the estimated number of hours required, and any other information that would help prospective applicants make a realistic assessment of the time and effort that your Project will require.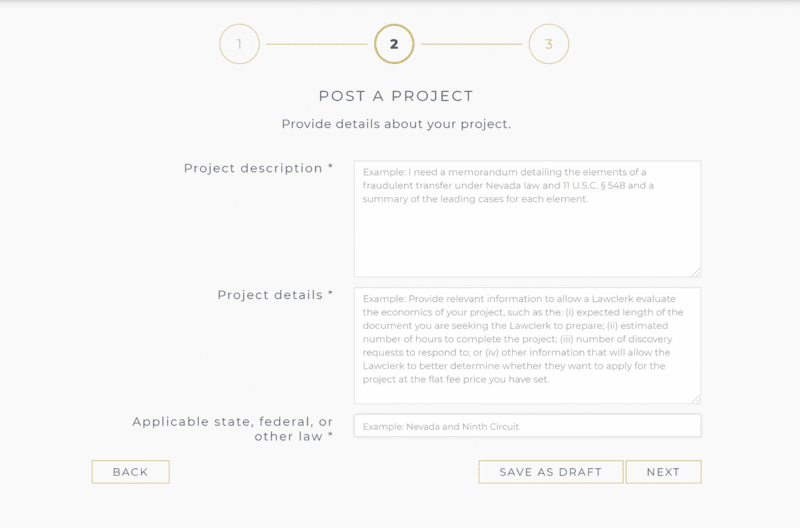 Again, these sections should not contain any confidential client information, as they are visible to thousands of freelance lawyers nationwide.
Agree to the Terms of Service and Conflict Check
Here's that freelance attorney agreement that you initially came here to find.
With LAWCLERK, it's automatically included as a legally binding written agreement on every single Project.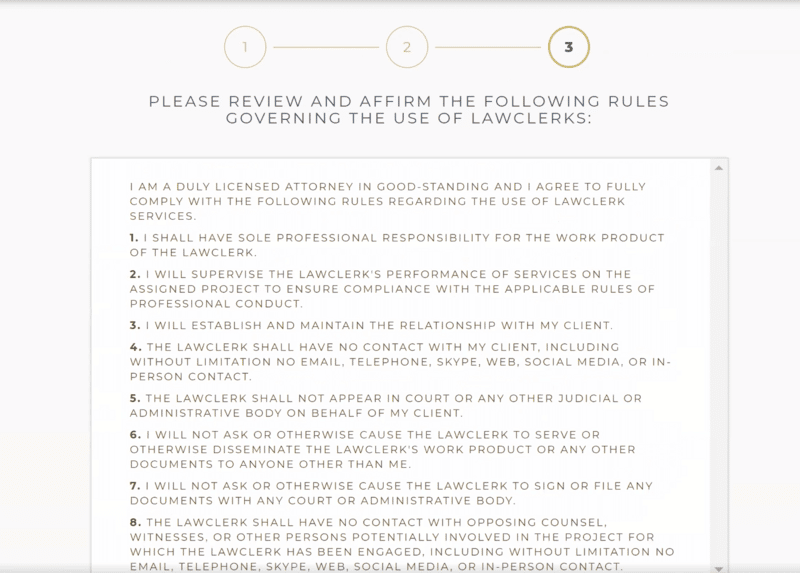 You and prospective applicants will also need to review and disclose any potential conflicts of interest.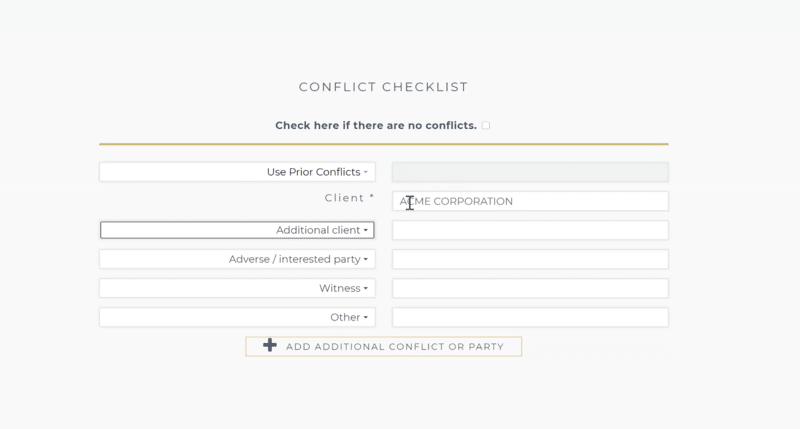 Payment and Tax Reporting 
Finally, you'll need to enter payment info to ensure the freelance lawyer is paid out of your account in full and on time.
You'll be charged only if you assign a freelance lawyer to complete your Project, but they don't get paid until they've completed your Project to your satisfaction. The payment is held in escrow until you approve the freelancer's work.
As for tax reporting, we make that easy, too. LAWCLERK issues an IRS Form 1099 on or before January 31 of each year to all qualifying freelance lawyers who completed Projects in the previous calendar year.
That's one more task off your plate — and more time you can spend on your highest and best use.
Choosing the Best Freelance Attorney for Your Project
After you've posted your Project and started receiving applications, you can evaluate applicants by reading their:
Resume
Writing Samples
Number of Projects Completed
Project Reviews from Their Past Clients on LAWCLERK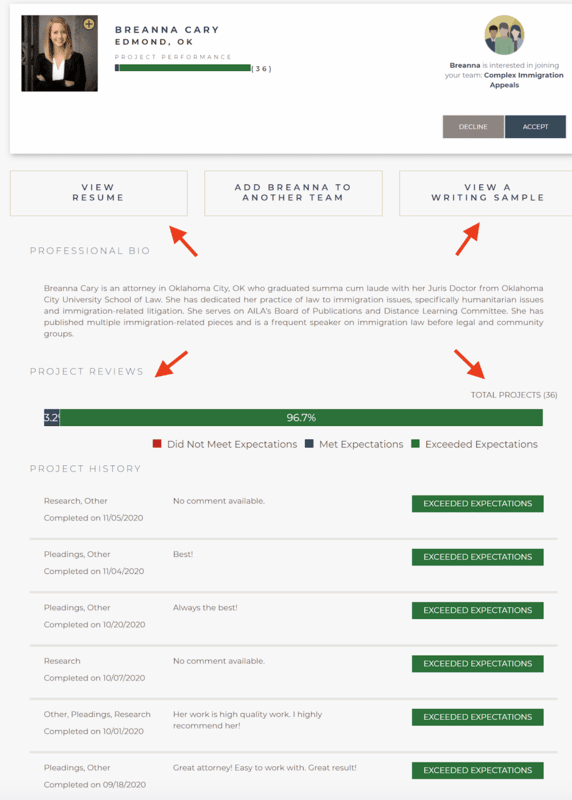 Get Help from an Insider
When you sign up for LAWCLERK, you'll be assigned a Dedicated LAWCLERK Advisor who can help you choose the best candidate for your postings.
Your complimentary Advisor serves as your sounding board and concierge, and they will get to know you and gain an understanding of the types of cases you typically need help with.
Your Advisor is always here to answer questions and help you make the most of your experience with LAWCLERK.
Start Building a Team
After you've successfully outsourced a few Projects, you might want to add trusted freelance lawyers to a "Team" of your favorite go-to freelancers. This allows you to tag your favorite freelance lawyers, add them to Teams, and work with them repeatedly without having to initiate the hiring process.
Over time, this allows you to build efficiencies and rapport with freelance lawyers, similar to having associates down the hall — but without the overhead expenses that accompany full-time hires. Learn more about the Teams feature here.
Retain Freelance Attorneys Long-Term
After you've been with us for a while, you might want to consider hiring freelance attorneys on retainer via our Virtual Associate Subscription Program.
It's another great way to grow your firm without the commitment of hiring a full-time associate. Simply identify the exact skills and experience level you're looking for, the price point that best fits your firm, and the number of hours you need each month.
We will then source the best candidates from our pool of thousands of attorneys, and you can interview them to determine the best fit for your firm.
To learn more about how our Virtual Associate Subscription Program works, see this post, or view the webinar below:
Hire the Best Legal Help, Only When You Need It
Ready to tap into LAWCLERK's network of talented freelance lawyers? Sign up for a demo here and we will guide you through how to best leverage our platform, as well as answer any questions you have.
To learn more, see our white paper on how to effectively delegate legal work to freelance lawyers. You can also check out our FAQ page, visit the Attorney Resources section on our site, and find legal outsourcing tips on our YouTube channel.